Wednesday, November 11, 2009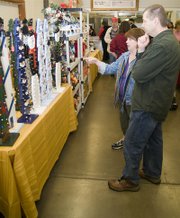 Majestic is site of Veterans Day dance
The Majestic Ballroom and Dallas ICAN will host a dance celebrating local veterans, their families and anyone who loves to dance on Wednesday, Nov. 11.
The all-ages dance is scheduled from 7 to 9 p.m. at the Majestic, 976 Main St., Dallas. Music will include a mix of swing, tango, cha-cha, rumba and nightclub stylings.
Admission is free for veterans and military personnel, and $5 for all others. Refreshments will be available.
For more information: 503-623-5055.
Western to stage 'Stanton's Garage'
Western Oregon University's theatre and dance department will present "Stanton's Garage," Joan Ackerman's touching comedy about life and love, Nov. 12-21.
"Stanton's Garage" will be performed in Rice Auditorium on the WOU campus, 345 N. Monmouth Ave. Performances begin at 7:30 p.m. Nov. 12-14 and Nov. 18-21. There will also be a matinee performance on Saturday, Nov. 14, at 2 p.m.
Tickets are available at the Rice Auditorium box office Monday through Friday from 12:30 to 4:30 p.m., by calling 503-838-8462, or at the Rice Auditorium box office on show nights.
Tickets are $7 for students, $10 for seniors and $12 general admission.
WV Hospice to offer volunteer training
A free one-day training workshop for individuals interested in volunteering with Willamette Valley Hospice will be offered Friday, Nov. 13, in West Salem.
The training will run from 8 a.m. to 5:30 p.m. at the Willamette Valley Hospice office, 1015 3rd St. NW.
Volunteers ages 12 through adults are needed. Volunteers provide office support or assist with special events, assist with patient care, and promote hospice education in the community. Schedules and locations are flexible.
For more information: Brittney or Amir, 503-588-3600; brittneyb@wvh.org; amiro@wvh.org.
Willamina art tour set this weekend
More than 25 artists and crafts people from Willamina, Sheridan and Grand Ronde will show and sell their work during the 18th annual Willamina Coastal Hills Arts Tour.
The free tour along Willamina's Main Street and at local artist's studios will be held from 9 a.m. to 5 p.m. Friday and Saturday, Nov. 13-14.
Maps to tour locations and general information will be available at the "Galloping Goose" train car, tour sites and the Willamina Public Library.
For more information: Willamina City Hall, 503-876-2242; Carol Scott, 503-876-6350; Geneva Spees, 503-876-7682.
Family game day planned at library
Celebrate "National Gaming Day at Your Library" by visiting the Dallas Public Library on Saturday, Nov. 14, from 11 a.m. to 3:30 p.m.
Children and families are welcome to stop by the library's Children's Room, where board, card and other games will be available to play.
For more information: Dallas Public Library, 503-623-2633.
Country folk dance scheduled Saturday
A country folk dance will be held from 7 to 10 p.m. on Saturday, Nov. 14, at Guthrie Park Community Center, 4320 Kings Valley Highway, south of Dallas.
All ages are welcome for an evening of dancing to the live music of Cash & Company. Caller is Alan Ede and dances feature a variety of styles, including old-time squares, big circles, longway sets and waltzes. No experience is necessary; all dances are taught.
Admission is $5 per person and children 12 and under are free. A family rate of $15 for four or more people from the same immediate family is available.
For more information: Sally, 503-623-0809; guthriepark@gmail.com; www.guthriepark.org.
Holiday grieving is seminar focus
Willamette Valley Hospice will host a "coping with the holidays" workshop from 9 a.m. to noon on Saturday, Nov. 14, at the group's office, 1015 3rd St. NW in West Salem.
The workshop is designed for children and adults who are dealing with the loss of a loved one during the holiday season. It will offer practical ideas and coping strategies, and will feature a presentation by WOU professor Tamina Toray.
For more information: Lori Ensign, Willamette Valley Hospice Bereavement Services, 503-588-3600.
K-8 youth program offers tips on birds
Independence Public Library will host a special youth program Saturday, Nov. 14, starting at 2 p.m.
"It's for the Birds" will explore some of the birds seen in the area. Participants will make simple bird feeders and create their own guide to some of the most common backyard and area birds.
Activities are designed for youths in grades K-8, but younger children are welcome if accompanied by a parent.
For more information: 503-838-1811.
ICAN belly dancing program to resume
The Dallas ICAN belly dancing program will being its next four-week session on Tuesday, Nov. 17, from 6:30 to 8 p.m. at the Dallas Senior Center, 955 SE Jefferson St.
The class for dancers 18 and older emphasizes fun, with relaxation, flexibility and a wide variety of music and dance.
Cost is $35 for the four weeks.
For more information: Dallas ICAN, 503-623-5055.
'Share the Warmth' drive is under way
Windermere Real Estate offices in Dallas and Monmouth are among those participating in the company's annual "Share the Warmth" donation drive now through Dec. 18.
Community members can help by donating new or clean, gently used coats and blankets for the homeless and less fortunate.
Donations will be accepted at the Windermere/Western View Properties office at 484 NE Bovard Ave., Dallas, and 297 N. Pacific Highway, Monmouth, from 8:30 a.m. to 5 p.m. Monday through Friday and 9 a.m. to 3 p.m. weekends.
For more information: 503-623-2333 or 503-838-1141.
Turkey donations sought for needy
Dallas and Monmouth Curves locations will donate membership fees in exchange for turkeys brought to the women's fitness centers during the "Give a Gobble Event" Nov. 16-21.
Turkey donations will be forwarded to Polk County's local food banks and families in need.
To set up an appointment or for more information: Dallas Curves, 503-623-6226; Monmouth Curves, 503-838-7109.
Driver safety class scheduled in Dallas
A two-day AARP Driver Safety Program and Mobility Options class will be held on two consecutive days this month at Dallas Retirement Village.
The class will be offered on Thursday, Nov. 19, and Friday, Nov. 20, from 1 to 5 p.m. in the Red Building at Dallas Retirement Village, 310 W. Ellendale Ave. Preregistration is required.
Classes are designed to promote personal awareness, sharpen driving skills, provide an update of changes in driving laws, and include tips and issues related to mature drivers and physical challenges.
For more information: 503-623-1856.