Wednesday, October 7, 2009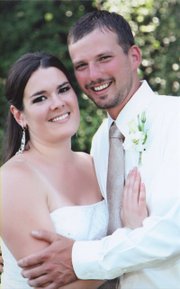 Lipnos-Edwards
Katherine Rebecca Lipnos of Dallas and Nathan Dene Edwards of Dallas were married July 25 at the Greg and Heidi Guy family farm in Dallas.
The bride is the daughter of Eli and Benita (Martin) Walls of Dallas and Tim and Anita Lipnos of Tigard. The groom is the son of Dene and LoraLee Edwards of Dallas.
Brian Wollaston officiated the ceremony.
Matron of honor was Kate Guy. Bridesmaids were Kylie Guy, Andee Rose, Shae Edwards, Melanie Hatchell, Shari Bartel and Trinity Minahan.
Flower girls were Hannah Farnes and Stephanie Farnes. Ring bearer was Bryant Farnes.
Best man was Scott Brunner. Groomsmen were David Brinker, Brent Eriksen, Ben Myers, Paul Cross, Nick Minahan and Tyler Guy.
Katie and Nathan are 1998 graduates of Dallas High School.
Katie is a property management assistant at Western View Properties in Monmouth. Nathan is a plumber for Judson's Plumbing in Corvallis.
The newlyweds honeymooned at the Oregon Coast. They make their home in Dallas.