Wednesday, October 28, 2009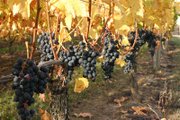 POLK COUNTY -- Processors and winemakers at Cristom Vineyards ended work last week with a toast. Not with wine glasses in hand, but bottles of micro-brewed beer.
The crew's ironic gesture on Oct. 20 marked the end of the West Salem-area vineyard's 2009 harvest.
Cristom Vineyards grape pickers and winemaker Steve Doerner took advantage of one of the last sunshine-filled days in October to harvest the final portion of the crop, a small corner of syrah grapes on the 65-acre vineyard.
With quick cuts from expert hands, a small picking crew filled bucket after bucket with the deep-purple grape bunches. They dumped each full bucket into four huge white bins, holding about 830 pounds of grapes each.
The remaining rows of later-season syrah grapes took about an hour to pick, but as the afternoon sun dipped in the sky, bathing the rows in golden light, the processing crew grew eager. After this batch, they would be done for the season. Half a dozen more vineyard employees joined the four-member picking crew.
"We've still got to process them and clean up," Doerner said.
The group swarmed the now yellow-leaved rows. Within minutes they had the last of the grapes picked.
Foreman Salomon Orozco towed the bins to the winery and turned the last bit of the crop over to the processors.
Using a conveyer belt to sort out what vintage intern Colin Shirek calls "mog," or "material other than grape," the crew quickly fed three and a half bins through. Most were destemmed, but a portion of the bunches were poured in a fermenting vat with the stems attached. The entire batch took little more than a half hour.
"It's pretty easy, really," Doerner said, noting that people have been making wine for thousands of years. "The basics are the same as they have always been."
Winemakers in Polk County will finish harvesting their grapes in the next few weeks. The bulk of the harvest, pinot grapes predominantly, was picked in late September and the first half of October.
So far, it's looking like the 2009 season in Polk county will be one worthy of toasting -- whether it be with a glass or a bottle.
"It was a good harvest, with a warm season," said Patty Skinkis, the Oregon State University Extension viticulture specialist. Early indications point to a larger yield than last year.
Last year, vineyards in the county harvested 4,086 tons of grapes off 1,960 acres of vines, according to the Oregon Wine Board's 2008 vineyard and winery report. Polk County added one more vineyard in 2008 to bring its total to 78. Only Yamhill County, with 248, and Washington County, with 84, have more.
Skinkis said September rains caused a portion of the 2009 crop to suffer from botrytis fungus, but overall grape clusters were larger and yield higher.
Emerson Vineyards owner Tom Johns said the vineyard southwest of Monmouth had a 30 percent increase in yield so far off the 25 acres under vine this year. Hot summer weather also produced better flavor, Johns added.
"Everything is looking good," he said.
Namaste' Vineyards owner and vintner Dave Masciorini said he was happy with the quality of this year's crop on the 200-acre vineyard near Dallas.
He said the lack of spring-like weather early in the growing season was worrisome, but the feared negative results never materialized.
He said warmer weather in the summer produced fruit that will likely make hearty pinot noirs with a deep red hue.
"I was very pleasantly surprised," Masciorini said.
Both owners noticed a little dip in out-of-state distributor sales for their wines, perhaps due to the economy. However, Johns said that appears to be recovering in recent months.
Masciorini said tasting room and Web site-generated sales at Namaste' are just as strong as ever.
"There are definitely plenty of Oregonians out there still drinking wine," he said.