Wednesday, September 2, 2009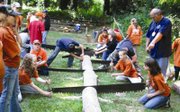 RICKREALL -- Between bites of fresh corn, roast pork and sips of local wine, the Polk Soil and Water Conservation District staff and board Aug. 25 applauded its accomplishments and recognized its volunteers.
Among highlights of the "Taste of Polk County" event at the Polk County Fairgrounds was the presentation of a $20,000 check from Spirit Mountain Community Fund for the district's outdoor school program.
The check for the outdoor school was presented by Shelley Hanson and Camille Mercier, tribal members who represent the philanthropic arm of the Confederated Tribes of Grand Ronde.
"As Native Americans, we understand the importance of healthy relationships between citizens and their natural environment," Hanson said. "You'll see that our number one funding category is consistently education, and this project combined our love of education and teaching youth about their natural environment."
The tribe each year donates a portion of its proceeds from Spirit Mountain Casino, located in Polk County near Grand Ronde, to community projects. The outdoor school gift is among more than $3 million in grants awarded this year, and more than $48 million since the awards began in 1997.
Polk SWCD's outdoor school is in its seventh year providing hands-on natural science experience to the county's sixth-graders.
More than 400 students this spring, for example, spent three days and two nights learning about water quality, fish, forestry, agriculture, astronomy, soils, animals, mapping and wilderness survival, noted Erin Hostetter, the school's coordinator.