Wednesday, September 30, 2009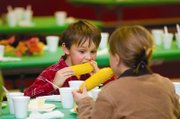 PERRYDALE -- A 26-year tradition that keeps getting bigger and better returns to Perrydale School Saturday, Oct. 3.
The annual Perrydale FFA Corn Feed is a sure sign that fall has arrived in Polk County -- and with it comes good eats, familiar faces and fun activities.
From 5 to 8 p.m. in the old gym at Perrydale School, 7445 Perrydale Road, FFA members will be serving hot dogs, baked potatoes, homemade apple sauce, homemade apple crisp, and all the ears of sweet corn you can eat.
In addition to good food, there will be a variety of activities designed for attendees of all ages. Events include a pumpkin carving contest, a corn throwing contest, a coloring contest and, of course, a corn eating contest.
Tickets cost $8 for a single adult, $6 for a student, $15 for a couple and $25 for families.
Proceeds benefit a number of Perrydale FFA programs, including scholarships for students, assistance with travel, funds for the Food For All program, and helping with the Senior Tea Luncheon.
Last year, about 550 people attended the event and helped Perrydale FFA raise $1,356, noted Kirk Hutchinson, Perrydale FFA advisor. This year, the chapter is hoping to serve more than 730 people, which is the record turnout.
For more information: 503-623-2040.