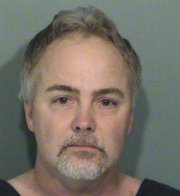 POLK COUNTY -- The man accused of causing a traffic accident late last month which killed one person and injured four others was indicted on manslaughter charges last week.
David Don Pallett, 49, of Amity appeared in Polk County Circuit Court on April 1. Pallett, who is free on bail, has pleaded not guilty to the alleged crimes.
Those crimes include two counts of manslaughter, five counts of assault in the third degree, and six counts of recklessly endangering another person.
Pallett's case stems from a three-car collision that occurred on Wallace Road just north of Salem in Polk County on March 24. According to court documents, Pallett crossed the centerline in his Ford pickup while traveling north and hit an oncoming Toyota Camry head on.
He then veered into the passenger side of a southbound Chevrolet Malibu, driven by Alan Olson, 58, of Salem. Olson was killed after his car came to rest in a ditch and Pallett's truck landed on top of his vehicle.
Kamee Chenowith of McMinnville and her three daughters, all of whom were riding in the Camry, sustained injuries.
Officers said Pallett displayed strong signs of intoxication during his arrest, and that he admitted to drinking several beers at work prior to the accident, according to court documents. He had also made suicidal statements while in custody, the same records show.
Pallett was arrested for drunk driving in early 2008, according to the Oregon Judicial Information Network.
He completed a year-long diversion program in connection with that case in March 2009.
Pallett is scheduled to appear in circuit court on May 7.