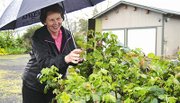 POLK COUNTY -- Even fully grown, the spotted wing Drosophila isn't much more than a speck to the naked eye, measuring between 2 and 3 millimeters long.
But for commercial farmers and home gardeners growing cherries, berries and other valuable fruit crops, this tiny, exotic fruit fly could mean big trouble this year.
The bug is believed to have migrated to California from Asia in 2008. It then spread to, and impacted, crops in Oregon and Washington late last summer.
The invader's appetite separates it from other Drosophila flies -- it targets and infests ripening fruit, instead of overripe and fallen fruit.
"I'm sort of viewing it like the H1N1 virus -- it was big in the media and I'm just hoping it peters out," said Ken Beachy, who harvests blueberries, raspberries, peaches and other fruit varieties at his Perry Hill Farms in west Polk County.
"But, this does have the potential to change how things are grown in the Willamette Valley and the West Coast."
The fly does its damage by piercing the skin of berries and other soft fruit and depositing its eggs. The resulting larva than feeds on and ruins the interior flesh.
According to the Oregon State University Extension Service, fly infestations have been found in 15 counties along the Interstate 5 and 84 corridors.
In east Marion County last summer, a large peach grower reported damage to almost all of his late-variety peaches. And a Hillsboro blueberry grower lost half of his berries around the same time, said Vaughn Walton, an OSU horticulture entomologist.
"Right now, I can't give a clear indication of how big a problem it will be this year," Walton said. "But the losses (that have happened) have been significant."
Enough so that since September, a team of researchers from Oregon State University and the U.S. Department of Agriculture have been studying the fly's life and feeding cycle, and devising ways to control it.
The contingent received $225,000 in emergency funding from the Oregon Legislature in February to implement a multipronged monitoring and education plan.
There have been two reports of fly infestations in Polk County to date, said Neil Bell, a Polk Extension Service spokesman. Both involved home garden produce, Bell said. With wine grapes one of the fruits vulnerable to the fly, there's concern about the area's vineyards, he added.
Walton said there has been some useful data gleaned in recent months, like that they unfortunately seem to thrive during Oregon's early summer and late fall temperatures.
But because the bug emerged at the end of 2009's harvest season, real answers about its life cycle and how widespread it is may not come until early crops ripen in May and June.
Spotted wing Drosophila isn't hard to kill. And Walton said the OSU research group is looking at which synthetic and organic insecticides, and even natural enemies, are most effective.
But because the bug has spread quickly along the West Coast -- probably through fresh fruit distributed to supermarkets in several states, Walton said -- it's not going anywhere.
"You could never get rid of the whole population," he said.
Kay Beatty, a Polk Master Gardener, grows most of the fly-vulnerable fruits on a cultivated acre on her property, and said she may rethink what she plants next year if there's an infestation.
"But, it's being said they can also live in Himalayan blackberries," Beatty said, noting another prolific invasive species in the state. "If that's the case, that's a huge problem."
Bryan Ostlund, Oregon Blueberry Commission spokesman, said the fly is a real threat, but added that dealing with new pests is par for the course for farmers.
"The only thing you can really do is your homework on it," Ostlund said.