Wednesday, April 21, 2010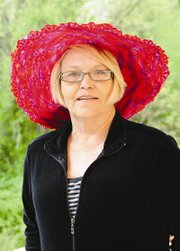 DALLAS -- When P.J. Johnson moved to Dallas and started work at the Dallas Resource Center four years ago, she found a community she never wants to leave.
Johnson resigned from the resource center, one of Mid-Willamette Valley Community Action's network of regional offices, on April 8. But she isn't going anywhere. She said she still has plenty of work to do.
Her decision to leave her position as a community resource specialist wasn't sudden. Health concerns that arose last year had Johnson looking for a time to leave.
"I've been thinking about it since last summer," she said Monday.
If you're worried Johnson's community activity will taper off too much, worry no longer. She has a to-do list long enough to throw into question whether she will actually be working less now. Johnson keeps a list of projects she is working on. It's handwritten in a notebook.
"This is my new Blackberry," Johnson said, pointing to her notepad. "Isn't it great?"
Her first project will be helping the Dallas Area Chamber of Commerce launch its Polk County Bounty Market, opening on the Polk County Courthouse lawn on Thursdays this summer.
"I just want to see downtown flourish," she said, noting the market will bring more people to the city center.
Tuesday nights, Johnson will be at the Dallas United Methodist Church helping James2 Community Kitchen volunteers serve meals to the hungry. She hopes to help the organization establish its own facility.
She also has her sights set on finding another church to grow produce to donate to area food banks. Grace Baptist Church donated 13,000 pounds last year out of its garden and Johnson is looking for a church to match that effort.
If those projects weren't enough, Johnson also wants to help bring a veterans home to Polk County.
When not acting as Dallas' volunteer at large, Johnson will allow herself a few leisurely activities.
She has joined the Dallas Aquatic Center and the Red Hat Society.
"That's the party girls in their 60s," she said of the Red Hat Society.
She has two new bright red hats that she is thrilled to show off.
"I never, never had time for that sort of thing before," she said.
There is even talk of a true vacation in her future, but no definite plans.
Johnson said she has long admired how quickly people in Dallas respond to calls for help. Recently, she's experienced it firsthand.
Her doctor ordered her to either move in with someone else or live in a place were she can alert someone if she needs help. West Valley Housing Authority helped her find a suitable arrangement at a cost that allowed her to take the time to focus on her health.
Of course, if that meant slowing down too much, Johnson would have nothing of it.
"I would never do well sitting in front of the TV or sleeping until 10 o'clock," she said.