Wednesday, April 28, 2010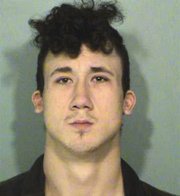 POLK COUNTY -- A man accused of killing a woman in West Salem last year has pleaded not guilty.
Steven Cleland, 22, was arraigned in Polk County Circuit Court on Friday, April 23, following his extradition last week from Missoula, Mont., to Polk County Jail.
Cleland allegedly shot Shelby Jo Landreth, 53, on Dec. 20, 2009. Landreth died from complications from a gunshot wound seven days later, according to court documents.
Cleland became a suspect in the days following the incident, but wasn't apprehended immediately and fled to Montana. A Polk County grand jury indicted Cleland on Jan. 7, said Deputy District Attorney Sally Avera.
Cleland was taken into custody in Missoula after picking a fight with a transient there. Authorities later discovered Cleland had a warrant for his arrest.
Cleland is charged with manslaughter in the second degree and criminally negligent homicide, both class B felonies.
He is scheduled to appear in court on May 14 for a pretrial conference. A June 15 trial date has been set. His bail is set at $50,000.