Wednesday, August 4, 2010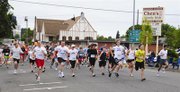 DALLAS -- Soon, Clay Stuhr and Alex Bird will be doing just about everything they can to beat each other.
But in the recent Summerfest 5K Run, the two Dallas High School students took the opposite approach. They finished well ahead of the rest of the pack while doing just about everything they could to not beat each other.
"It went pretty good," said Bird, who will be a junior in the fall. "My friend Clay and I were trying to finish together as a team. Since it's a fun run, we thought we should work together. Normally, during a competition, we'd compete all the way to the finish. This time, we decided to finish together instead."
Stuhr was listed first in the results, but both he and Bird finished in 18 minutes, 36 seconds. Kelly Chapman finished third in 20:28.
"It was a lot of fun," said Stuhr, entering his sophomore year. "It's always fun running with Alex. We were planning throughout the race that we wanted to finish in a tie. We kind of just ran together. We both felt pretty good about it. We're happy that we ran it together.
"I don't think it's going to be that way the rest of the season. It's really fun to be able to race with Alex. We're at about the same level, so it's really cool to see who wins."
Bird and Stuhr were the top two boys runners for the cross country last season and also ran track. They also have trained together three days per week this summer.
"Last year, we would always see who would win the races," Bird said. "We'd be head-to-head sometimes at the finish line. Sometimes, he'd have the better kick. Sometimes, I would. Right now I'd say we're about even."
Bird won the battle with his teammate at the 2009 Mid-Willamette Conference cross country meet, finishing 16th in 17:17.49. Stuhr was 18th with a time of 17:21.75.
But the order was reversed a few months later in the league track meet. Stuhr ran fourth in the 3,000 meters with a 9:32.5 clocking. Bird finished ninth in 9:51.7.
"All last year for cross country, it was Alex," Stuhr said of the rivalry with his teammate. "Then I won during track. It's going to be kind of interesting to see who's going to come out on top this year."
While that remains to be seen, it's doubtless the competition between the two will benefit the Dragons in cross country and track. Stuhr and Bird will push each other to get better and everyone else on the two squads will improve while trying to keep up.
"I'm really looking forward to our potential this year," said Bird, referring to the DHS boys cross country team. "We have a lot of new faces. If we really work at it, we have a pretty good chance of making it to state."
There were 85 total competitors in the 5K run. Close to 30 youngsters took part in the Kids Fun Run and another 20 or so completed the 5K walk.
Organizer Sandy Teal reports the event helped raise more than $1,300 for the Dallas Booster Club.
Basketball also returned to Summerfest in a big way with a three-on-three tournament and the first-ever Dallas alumni game.
In the alumni game, played July 30 outside The Academy, Dallas fans were treated to a battle royale between Jeff Dunn and Travis Johnson, a pair of 2001 Dallas graduates. The two were teammates on the last Dallas boys basketball team to reach the playoffs. Dunn led all scorers in the alumni game with 38 points. Johnson scored 33.
All of the players obviously were older than in their high school days. Some had put on a few extra pounds. But the level of play in the battle between former Dragons was surprisingly high.
Other participants in the vent included Tyler Brostrom (2007 graduate), Mitch Posey (1974), Tyler Brostrom (2007), Murray Stewart (1979), Nathan Cameron (2007), Tyson smith (2006), Stephen Kahl (2002), Megan Johnson (2004) and Rachael Vallez (2006).
The coaches were Dick Hoffman (1968) and Lori Brostrom (1979).
There was a ceremony prior to the game in honor of Jack Posey, who has been involved in Dallas basketball for the past 40 years.
"It went way better than expected," said organizer Tod Brostrom. "We have a very talented group of alums who came back to play. It was pretty much the Jeff Dunn and Travis Johnson Show. They grew up together and have been battling like that for years. They were really going at each other. It was a blast.
"I think my son (Tyler) hit five three-pointers in the first half. He was on fire. Even the two old guys, Murray Stewart and Mitch Posey, got up and down the court just fine and had a blast."
A three-on-three soccer tournament hosted by Dallas United Soccer also made a successful debut at Summerfest. The tourney was played July 30 on the lawn around The Academy and drew 27 teams from areas such as McMinnville, Keizer, Cascade and Silverton.
"It was a fun tournament that was marked by camaraderie, fair play and -- most of all -- a love for the game," organizer Jim Cross said. "Thanks to everyone who helped make our first year such a success."