Wednesday, January 6, 2010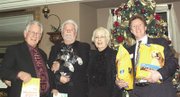 Gallery resumes exhibiting artwork
The Pearl Gallery, after a two-year hiatus, is again exhibiting artwork in the Dallas community.
The works of artist Ruth Embree Hargreaves are currently being featured and will be on display for viewing from 4 to 10 p.m. on Thursdays, Fridays and Saturdays at L'attitude One restaurant, 904 Main St., Dallas.
Hargreaves, who was raised in the Bridgeport area and now resides in Sandpoint, Idaho, does mixed-media collages including abstract and nonrepresentational paintings.
For more information: Marlene Cox, 503-917-9243.
Community karate class begins Jan. 6
Dallas Intercommunity Activity Network is bringing back its popular karate program to the Morrison Gym beginning tonight (Wednesday, Jan. 6).
Classes meet from 6:30 to 7:30 p.m. Instructor Kristy Mitchell leads this no-contact marital arts program, which emphasizes self respect, agility and discipline.
Cost for the four weeks is $30 per student or $40 for families with two or more participants. Minimum age is 7.
To register or for more information: 503-623-5055; www.dallasican.org.
Fitness classes set twice a week
Jump start your 2010 fitness program by attending free strength and flexibility classes at Faith Evangelical Free Church in Dallas.
Classes are held every Tuesday and Thursday beginning Jan. 7 from 7 to 8 p.m. in the church's Fellowship Center, Building 1, 2290 E. Ellendale Ave.
The workouts, suitable for all fitness levels, follow a DVD produced by Body & Soul for First Place 4 Health. Everyone is welcome. Participants are asked to bring their own hand weights or resistance bands, workout mat and water bottle.
For more information: Eileen DiCicco, 503-623-2924.
Hospice to offer volunteer training
A free one-day training workshop for individuals interested in volunteering with Willamette Valley Hospice will be held Friday, Jan. 8, in West Salem.
The training will run from 8 a.m. to 5:30 p.m. at the Willamette Valley Hospice office, 1015 3rd St. NW.
Volunteers ages 12 through adults are needed. Volunteers provide office support or assist with special events, assist with patient care, and promote hospice education in the community. Schedules and locations are flexible.
For more information: Brittney or Amir, 503-588-3600; brittneyb@wvh.org; amiro@wvh.org.
Dallas swim team selling doughnuts
The Dallas High School swim team is conducting a Krispy Kreme doughnut fundraiser on Saturday, Jan. 9.
From 8 a.m. to 1 p.m., the swim team will be at the Wal-Mart store in Dallas, as well as Dutch Bros. Coffee in Monmouth and Dallas selling the popular Krispy Kreme treats.
Cost is $9 per dozen. All proceeds benefit the DHS swim team.
To preorder, to schedule a delivery, or for other information: Vicky, 503-623-5774.
Area tree recycling planned Saturday
A Christmas tree recycling event to benefit Sable House of Dallas is scheduled Saturday, Jan. 9, from 9 a.m. to 2 p.m. at Allied Waste, 1030 W. Ellendale Ave., Dallas.
Suggested donation is $5 for each tree.
To schedule a tree pickup or for more information: 503-623-6703.
Christmas tree recycling available
Heart to Heart Church will offer Christmas tree recycling from 10 a.m. to 4 p.m. Saturday, Jan. 9, at 191 Monmouth Ave. N. in Monmouth.
Donations benefit the church's Sunday school camp fund. Suggested donations per tree is $4 for those dropped off and $5 for those picked up.
For more information: 503-838-4742; 503-930-5602; or 503-837-0541.
Next country folk dance is Saturday
A country folk dance will be held from 7 to 10 p.m. on Saturday, Jan. 9, at Guthrie Park Community Center, 4320 Kings Valley Highway, south of Dallas.
All ages are welcome for an evening of dancing to the live music of Cash & Company. Caller is Truman Price. Dances feature a variety of styles, including old-time squares, big circles, longway sets and waltzes. No experience is necessary; all dances are taught.
Admission is $5 per person and children 12 and under are free. A family rate of $15 for four or more people from the same immediate family is available.
For more information: Sally, 503-623-0809; guthriepark@gmail.com; www.guthriepark.org.
Sunday breakfast set at Buell Grange
The Buell Grange of Polk County is hosting a community breakfast Sunday, Jan. 10, from 8 a.m. to 12:30 p.m.
Cost for breakfast is $5; coffee is free. Proceeds benefit the Buell Grange.
The Buell Grange Hall is located northwest of Dallas off Highway 22 at 5970 Mill Creek Road, across from the fire station.
For more information: 503-623-8462 or 503-843-4703.
Monmouth church will host concert
The Arena Family will perform a concert at 6 p.m. Sunday, Jan. 10, at Heart to Heart Church, 191 Monmouth St. N., Monmouth.
The hourlong performance of musical praise is open to the public. Finger foods and snacks will follow the concert. A freewill offering will be accepted.
For more information: Anita, 503-838-4742; Lisa, 503-837-0541.
Dallas arboretum seeking volunteers
Volunteers are needed to help with an assortment of regular activities at the Delbert Hunter Arboretum and Botanic Garden in Dallas.
Weekly work hours during the winter are scheduled every Tuesday from 1 to 4 p.m. Hours change to 9 a.m. to noon beginning in March. Coffee and snacks are provided.
Individuals and groups are welcome. No experience is needed and training is provided.
For more information: 503-623-4845; www.delberthunterarboretum.org.