Wednesday, January 27, 2010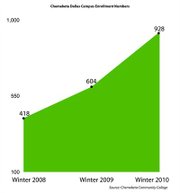 DALLAS -- Chemeketa Community College's Dallas Center enrollment has increased nearly 60 percent, following a pattern of increasing student numbers since the facility opened in 2007.
Based on preliminary enrollment data from the beginning of winter term, more than 900 students are attending classes at the center, located on Holman Avenue near Dallas High School.
"We have grown progressively over the three years we have been here," said Dallas Center Director Reine Thomas. "We are really at capacity in this building."
Community colleges often see a surge in enrollment during rough economic times, Thomas said.
Those students generally fall into two groups: young students beginning their post-high school education at a community college; and older, unemployed or underemployed workers seeking additional training. Thomas said workers trying to expand their knowledge and skills base account for a sizable portion of the increase.
Schoolwide, Chemeketa has seen a 23 percent increase in enrollment from winter term last year, with other area centers, including the Salem, McMinnville and Woodburn campuses and online classes all seeing more enrolled students, said Chemeketa spokeswoman Emily DuPlessis. Preliminary data also shows students are taking more classes and staying enrolled for longer periods in recent terms.
DuPlessis said the rate of increase at the Dallas Center is the highest and that could be due to Thomas' focus on providing students with more educational opportunities at the local center.
"Reine (Thomas) has done a great job of expanding the programs in Dallas," DuPlessis said.
While an economic crisis is sending more people back to school, it is also taking a bite out of Chemeketa's budget. Chemeketa will face an estimated $1.2 million budget shortfall in the 2010-11 year. Thomas said it's too early to tell what impact that will have on the local campus.
She said teachers at CCC's Dallas Center are focused on doing their best to meet the increased demand and help students move toward attending a university or completing a certificate through Chemeketa's main campus.
"That's really what we are here for," she said.