Wednesday, January 27, 2010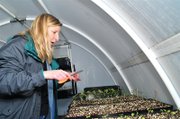 MONMOUTH/INDEPENDENCE -- Jeannie Berg shovels leaves from giant composting piles onto a tarp, drags and deposits them in one of many puddles strewn across the bumpy five-acre lot behind Central Baptist Church in Monmouth.
"There's a lot of water here and that's where the leaves come in," she said while trudging through the muck. "It's clay soil ... and this adds organic matter."
She repeats the process on a day so windy it threatens to blow the tarp away. That doesn't dampen her spirits.
The land hadn't been used for years, but is now being turned into an urban farm that will by summer yield garlic, onions, lettuce, potatoes and more than 40 other fruits and vegetables for local citizens.
Berg runs a business, Your Home Harvests, building custom organic gardens on her customers' property. Last fall, she entered into a partnership with landowners such as Central Baptist to farm their unused lots.
Her task is twofold. She's creating community gardens that residents themselves may work -- or they can sit back and reap the edible benefits under a concept called community sustained agriculture (CSA).
A CSA is more or less a cooperative, offering members regular produce for a yearly fee, and are common in larger cities. Berg said she felt one could thrive in Monmouth and Independence, where she's doing her initial outreach.
"I wanted to see if we could make a living just in the towns where the farms are located," she said. "There's enough interest here in good, fresh, local produce."
It's a professional change of pace for Berg, an Independence resident. She spent 15 years involved in politics, including the last two as an aide to former Congresswoman Darlene Hooley on homeland security, forestry and agriculture issues.
"It's different than what I was doing 8 to 5, Monday through Friday," she said, "but not much different than what I was doing in the evening."
Organic gardening has been the release, said Berg, noting her interest stems from the 26 fruit and nut trees her father grew at her childhood home in Fresno, Calif.
Berg said she mulled another political job after Hooley's 2009 retirement, but was more interested in taking part in agriculture than just discussing it.
She sold produce from her own 400-square-foot garden, and in March 2009 began building gardens in people's front and backyards.
"As I was doing that, I started to look at empty land and think to myself it was land you could totally grow on," she said.
Last summer, she got offers to manage unused land owned by Central Baptist, a county landowner south of Monmouth, and the city of Independence, which has a spot near Riverview Park.
Half of those collective areas will be reserved for the CSA. The rest, per the arrangement, is to be used for community garden plots.
What's more, 10 percent of produce grown will be donated to local food banks, Berg said.
She's is working with a part-time employee, horticulturist Danny Dalton, and has had help from several college interns who are studying agriculture. Because the plots are small, most of the work is being done by hand and without synthetic herbicides or fertilizers.
Central Baptist's plot, for example, has been covered in mulch with leaves picked up from streets in Monmouth and Independence.
Central Baptist pastor Jeff Hinman said the approach Berg is using shows how to make underutilized land in communities productive.
"I think this feeds into the interests people have of securing their food sources," said Hinman, who has an agricultural background himself. "And getting out and tilling the earth ... that's a good thing."
Berg said she believes there are more empty parcels within Monmouth and Independence that could be farmed as microenterprises.
"I hope as the years go by, people look at this as a possibility," she said.
How the M-I garden program will work:
Annual subscriptions to the Monmouth and Independence CSA program are $400, if paid by April 1, and consist of 22 weekly deliveries beginning in June. Harvest boxes will contain six to 15 different vegetables and fruits, including heirloom tomatoes, greens, plums, cherries, basil and cilantro.
Community garden plots rent for $50 a year, including water and tilling. For more information, visit www.yourhomeharvests.com or contact Jeannie Berg at 503-689-2784 or at yourhomeharvests@gmail.com.
How CSA programs work:
Community Supported Agriculture (CSA) programs entail a farmer offering a certain number of "shares" of products from his or her growing operation to the public. For a fee, members receive a box of produce from regular harvests for 22 weeks during the farm season.
Farmers are able to receive payment early in the season, which helps their cash flow, while participants get fresh produce, learn how it's grown and who's growing it.
The government doesn't track CSA operations, though many entities register with the farming network LocalHarvest.org. There are more than 3,200 CSAs across the United States listed within Local Harvest's database. In Oregon, the tally is 140. Your Home Harvest is the only one in Polk County.