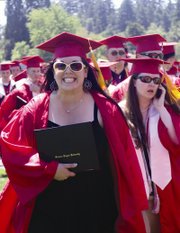 MONMOUTH -- Besides bidding a fond farewell to 700 cap-and-gown clad graduates during the commencement ceremony on Saturday, June 12, Western Oregon University honored several faculty members and students.
Kimber Saville was the winner of the 2010 Julia McCulloch Smith award. The recognition is given to an outstanding female senior.
Saville, who earned a bachelor's degree in psychology, has participated in a number of research projects with psychology faculty during her career at WOU. She earned a 3.93 grade-point average, and completed eight academic presentations on and off campus.
Saville was vice president of Phi Kappa Phi, and served as a volunteer psychology tutor and a tutor at the Writing Center.
She also played on the women's rugby team during her first two years at WOU and volunteered at Abby's House, an organization that caters to women and families.
Saville will enter Washington State University's five-year psychology doctoral program this fall. She hopes to be a professor someday.
Also honored this past weekend:
* Christina Brandenburg -- outstanding graduate student. Brandenburg worked as a counselor for veterans and those suffering from substance abuse for 20 years before returning to school. She earned a master's degree in rehabilitative counseling.
* Karie Mize, an assistant professor in the division of teacher education, was the recipient of the Mario and Alma Pastega Award for Excellence in Teaching.
* Psychology professor Mark Girod received the Pastega Award for Excellence in Scholarship. Ann Barton-Brown, a support and publication design specialist for University Residences, earned a Pastega Staff Excellence Award.