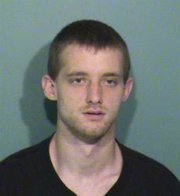 DALLAS -- The man arrested in Dallas earlier this month on several sex abuse charges, including attempted rape, will appear in Polk County Circuit Court on June 24 for a preliminary hearing.
On June 9, Dallas police officers arrested Jerry D. Carmickle Jr., 22, of Dallas, following a report that a woman had found him inside her Dallas home.
According to court documents, police interviewed the woman's 15-year-old daughter, who accused Carmickle of multiple incidents of sexual abuse that allegedly occurred in the early morning hours of June 9.
Carmickle has been charged with first-degree attempted rape, first-degree sex abuse, first-degree sodomy and third-degree sodomy, all felonies. Carmickle was also charged with fourth-degree assault and first-degree criminal trespass, both misdemeanors.
Polk County Deputy District Attorney Jennifer Gaddis said Carmickle's case is scheduled to go before a Polk County grand jury today (Wednesday, June 23). The grand jury will hear evidence and determine if the charges are warranted or if more should be added.
Carmickle will appear for a preliminary hearing to be arraigned on the grand jury indictment on June 24 at 1:15 p.m.
Carmickle is being held in the Polk County Jail on $120,000 bail.