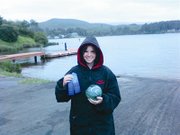 DALLAS -- As if there already weren't enough ways to get cold and wet in Oregon, Katie Campbell of Dallas has come up with another.
The 13-year-old took part in the Devil's Lake Open Water Swim at Devil's Lake in Lincoln City on June 13. The water temperature that day was a reported 66 degrees.
"It was freezing cold," said Campbell, who will be an eighth-grader at LaCreole Middle School in the fall. "When you first get in, your body is like in shock and you can't breathe at all. After a few minutes, you start trying to breathe and start trying to slow down your breathing. After a while, you sort of get used to the water, and you can start swimming."
Campbell found out about the event from her coach on the Corvallis Aquatic Team and mom Anne Campbell looked it up on the internet.
The Open Water Swim actually is a series of four different races varying in length from 400 meters to 3,000 meters. The course is marked by bouys placed in the water in the shape of a diamond.
"They have different bouys set up for different events," Katie Campbell said. "Before the race, they would call you over to a meeting area and show you the course. You had to listen carefully because if you miss a bouy you have to go back and reswim the event."
Campbell was the youngest swimmer to take part in the event. She swam the 400 and 800 and came home with one first-place finish and one second.
"The 800 was a lot harder," Campbell said. "It was the first event so I was still getting used to it. In the 800, I was figuring out how to get around the bouys and all that. You want to go right past the bouys. You don't want to go circling around real wide because that will waist time."
Wetsuits are allowed in the event, but Campbell was among a handful of the 50 or so participants who chose to go with only a regular bathing suit.
"I just wore my regular swimsuit," Campbell said. "I just wanted to try it without a wetsuit because I wanted to see what it would feel like."
Campbell said swimming in a lake was nothing like swimming in a pool. She had at least one experience that's not likely to be repeated in the Osborn Aquatic Center in Corvallis.
"There are no lanes so you kind of have your own space," Campbell said. "You can swim freely, not like you're confined to one lane. The water was kind of murky. You couldn't see the bottom. In the 400, while swimming to the third bouy, I saw a catfish in the water, and that kind of scared me. I think he was checking out the bouy. He was right there next to it."