Wednesday, March 10, 2010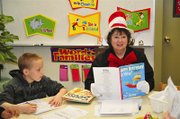 INDEPENDENCE -- "Te gustarian en un caseron? Te gustarian con un raton?"
You might not understand Spanish.
But had you eavesdropped on Central High senior Alberto Gomez as he read those words to a dozen or so Henry Hill Elementary School kindergartners last week, there's little doubt you could have mistaken the familiar rhyme pattern of "Green Eggs and Ham."
"No me gusta nada Juan Ramon. No me gustan nada huevos verdes con jamon!" Gomez continued, as his audience, children in the English development program, giggled.
Schools and libraries across the United States on March 2 celebrated Dr. Seuss' 106th birthday as part of Read Across America Day.
At Henry Hill, from morning until the final bell, youngsters were treated to readings of "Horton Hears a Who," "The Cat in the Hat," and other classics by the late Theodor Seuss Geisel.
Teachers read in each of their respective classrooms, while 24 Central High School students took turns entertaining and reading to groups in the library.
Gomez said he remembered the annual celebration -- in which students were, and still are, allowed to come to class in pajamas -- when he attended Henry Hill.
"That was something we all looked forward to as little kids," he said.
Getting the teens over to the school to read to their younger peers was coordinated by Luis Miguel-Rodrigues, Central High's student body president and another Henry Hill alumni.
"I think it just helps some of the students here, who don't have older siblings or relatives who go to the high school," said Miguel-Rodrigues.
There were more than a few teachers and Henry Hill employees who wore Dr. Seuss T-shirts. Some took it a little further.
Barbara Redinger, a special education teacher dressed in all black, donned big, white gloves and a tall red-and-white striped hat, a la the Cat in the Hat.
"Dr. Seuss books are leveled for kids," she said. "No matter what reading level they're at, they can pick up a book and enjoy it."