Wednesday, March 10, 2010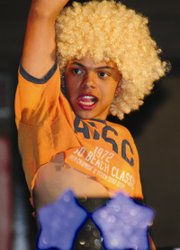 DALLAS -- Nine Dallas High School males will be vying for a title Saturday, March 13.
It will be a contest of creativity, originality and, perhaps most importantly, personality.
The winner from the two juniors and seven seniors in the competition will be crowned "Mr. Dallas."
A DHS tradition since 1996, this year's pageant will be clever, silly and, at times, outrageous. And all the frivolity will benefit Doernbecher Children's Hospital in Portland.
Dallas High kicked off Doernbecher Week Tuesday, March 9, with an ice cream social, talent contest and auction. Today (Wednesday, March 10), the Mr. Dallas competitors will be introduced to the school in a mock coronation. Thursday, the junior and senior classes will face off in a basketball game at 7 p.m. in the DHS main gym.
Mr. Dallas contestants are also leading their own fundraising efforts, which will figure into their final score in the pageant.
"The fundraising goal is to simply raise as much money as possible," said senior Stacia Wetter, the event's student coordinator. "With the hard economic times, we want people to do what they can, but we have no expectations."
Last year, Doernbecher Week raised $6,000.
Wetter said Saturday's show will be full of zany routines involving music, dancing and one act called "Cooking with Dallas."
Contestants will be judged on a class skit and video; individual talent, swimwear, and formalwear; and a final question-and-answer round.
"The guys have been working extremely hard to put on some talented and unique routines that I'm looking forward to seeing," Wetter said.
2010 Mr. Dallas
What:
Mr. Dallas Pageant
When:
7 p.m. Saturday, March 13.
Where:
Dallas High School gym, 1250 SE Holman Ave.
Tickets:
$5. Available from contestants prior to the event and will be sold at the door. All proceeds benefit Doernbecher Children's Hospital.
Contestants:
Juniors -- Josh Brockway and Shane Matthews. Seniors -- Ryan Spencer, Jordan Tom, CJ Drake, Stephen Carmickle, Scotty McKinley, Nick Bemrose and Matt McCammon.
For more information:
503-623-8336.