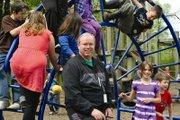 DALLAS -- Luckiamute Valley Charter School's recent success in attracting more students is making a good case for opening more country schools.
This school year, Luckiamute has seen a boom in enrollment, not even a year after the public charter school decided to consolidate students for most classes from two Polk County school sites to one at its Bridgeport campus.
The Pedee campus, that had housed the fifth through eighth grades, had been designated as a satellite campus in January 2009, used for science, art and physical education classes.
But the increase from about 87 students at a low point last school year to 143 this year made adding another modular building for more class space a necessity.
The already crowded campus expects to see as many as 175 students next year, with waiting lists in kindergarten and fifth grade, according to Executive Director Dan Austin.
The school even held its first-ever lottery to determine which students would be enrolled in next year's kindergarten program due to so many applicants.
"The turnaround has been absolutely amazing," Austin said.
Luckiamute Board President Fred Weisensee said the decline in the 2008-09 school year was mostly due to families moving out of the area and withdrawing their children from the school midyear.
Luckiamute has made up the loss in quick fashion.
Enrollment, which is open to students in and outside the Dallas School District, is looking so good for the 2010-11 school year, Luckiamute is planning to reopen the Pedee campus in 2011-12 for full-time classes for the sixth through eighth grades.
Even this year, the school is getting crowded, but to most working in the school, that is a pleasant surprise.
Parent volunteer Liberty Lingren said Luckiamute provides the appropriate educational environment for her kids, one in kindergarten, the other a fifth-grader. She said she was unhappy with the schools in the district her family lives in and home schooling proved too time consuming.
Fifth- and sixth-grade teacher Colleen Kuust said that the school's smaller size and ability to give students individual attention is a part of its success.
"I think we can accommodate kids more here," she said.
With about 175 students committed to attending
in 2010-11 already, Weisensee said the school could easily make the move to putting classes out at Pedee next year. However, they decided to wait one year to make sure the enrollment remains steady and staff, including at least three new teachers, is comfortable with the switch to two campuses.
Third- and fourth-grade teacher Elaine Austin, for one, probably won't mind. She said in contrast to
2008-09, having a packed school has been a blast.
"It's just bustling here," she said. "Lots of activity -- we love it."
Weisensee said the board intends to keep the forward momentum going by continuing to offer a strong elementary program and actively encouraging enrollment in the middle-school grades.
Weisensee said the school is working toward integrating programs that take advantage of the rural surroundings of the campuses, giving students an opportunity to study streams, forests and farming.
"At first we'll have a stable move to Pedee, and once that has happened, we will look at expanding (programs)," Weisensee said.
Luckiamute Valley Charter School still is taking applicants for the 2010-11 school year. There is no tuition to attend.
For more information, or to register a student, call 503-623-4837.
Busy School
What:
Luckiamute Valley Charter School.
Where:
17475 Bridgeport Road, Dallas.
Of note:
Luckiamute Valley Charter School still is taking applicants for the 2010-11 school year. There is no tuition to attend.
For more information:
503-623-4837; www.lvcs.k12.or.us.