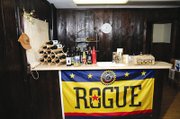 BUENA VISTA -- If you've traveled Polk and Yamhill counties within the last few years, you've become accustomed to the wine tasting rooms sprinkled throughout the Willamette Valley landscape.
At the end of Wigrich Road south of Independence, you'll find another, albeit an unconventional one -- a 228-square-foot shop lovingly labeled "Chatoe Rogue."
That's not a misspelling.
Newport-based Rogue Ale, which leases a small hop yard on the 290-acre Alluvial Farm in southeastern Polk County, is hosting a grand opening and ribbon cutting for its new beer tasting room.
Joe Mattoon, Rogue "field marshal" and spokesman, said the concept is giving people an opportunity to sample craft beer on the very land that its most important ingredient is grown on.
"The point is having an experience that a wine drinker might have at a vineyard," Mattoon said. "They go to the location grapes are grown and taste wine made from those grapes.
"We feel that can apply to the beer-making process."
Rogue -- for the uninitiated, a well-known micro brew -- settled on a lease agreement with the Coleman family, owners of the Alluvial Farm, two years ago.
Rogue uses 45 acres to grow several hop varieties used in a line of its own beer. After opening the small tasting room for a few engagements last year, the facility is finished and "ready for prime time," Mattoon said.
The building features a bar with Rogue beers on tap, and a deck overlooking working hop fields to the south.
The building will be the staging ground for tours of hop baler and cooler barns and fields. And a large nearby lawn will be the site of concerts and special events.
People will be able to sample beers from Rogue's Chatoe series -- such as "Pinot Envy" Ale and Dirtoir Lager.
"We're having a little fun at the wine guys' expense," Mattoon said.
With the opening of the tasting room, Rogue is also now renting out to the public the six-bedroom, 1912 farm house that sits on the property.
Mattoon said the hope is that it will appeal to not only "beer geeks," but the general public as well.
"It gives people the opportunity to stand on the soil that the hops grow on and see what goes into our products," he said.
Raise a Glass
What:
A grand opening and ribbon cutting for Rogue Ale's Chatoe Rogue.
Where:
3590 Wigrich Road, Independence (Buena Vista).
When:
Saturday, May 15, 3 p.m.
Of note:
Tours of the hop farm will be offered, and there will be free beer tasting for adults.
After this weekend, Chatoe Rogue will operate from 4 to 9 p.m. Tuesdays through Saturdays through late summer. Besides beer, Chatoe will also offer a limited menu of sandwiches, salads and appetizers.
For more information:
Denise, 503-347-8288; www.rogue.com.