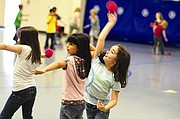 MONMOUTH/INDEPENDENCE -- Central School District's proposed $27.2 million budget for 2010-11 won't require the same severe cuts as the prior year -- or any, for that matter.
Schools will actually see a few modest additions. Still, areas that were gutted last year -- such as elementary school music and physical education
-- will continue to operate on limited resources.
Last year, the district made $4.8 million in reductions -- about 21 percent -- after basing its budget on a state school allocation of $5.7 billion, instead of the formal $6 billion.
Making that move, plus borrowing from this fiscal year's $800,000 reserve fund, has meant no layoffs and being able to maintain current service levels, said Superintendent Joseph Hunter.
"We were able to weather a difficult financial position into next year with carry-over dollars," he said.
Being conservative was necessary, Hunter said. Gov. Ted Kulongoski warned schools in March against spending their full allocations -- despite passage of Measures 66 and 67 -- because of a potential 15 percent shortfall in state revenue in 2011.
And rates for the Public Employee Retirement System are also expected to increase by 7 percent, he added.
Central is planning for no increase in the average daily membership dollars it gets from the state above the current level; enrollment in Central is slightly less than what it was in 2008-09.
Earlier this month, faculty, community members and students offered testimony to the Central School Board, encouraging more personnel and resources for music and PE classes at the elementary schools and the after-school program, Project Prime Time.
"I think all of these folks clearly recognize that there's very little money and all of them are advocating for the same dollars," Hunter said.
As such, no changes were made, and most of those areas will operate as is for another year. Prime Time will be scaled down considerably.
"I'm disappointed," said Meg Greiner, a teacher who oversees PE at two elementary schools following staff reductions in 2009-10. "Our children need to move, more than ever now in this screen-time world."
Central Youth Sports, a local organization, is offering sports for Talmadge Middle School students after the school's program was cut last year.
Stacy Olson, CYS volunteer, said she was happy to learn that the district would continue to foot the bill for transportation for athletes for another year. But a request for an athletic director's stipend for running programs was turned down.
"We understand the situation the district is in and we want to help," Olson said. She added that CYS coaches are volunteering for free and that the group will have to raise participation fees.
"But we don't know how long we can keep doing this and we would like for the district to pick it up at some point," she said.
One element that could affect the budget, for better or worse, is a new contract with Central's teacher's union. The two sides are currently in negotiations.
As of this time, the district won't ask licensed staff to take unpaid days as it did last year, Hunter said.
Central School District's budget committee will meet at 6:30 p.m. on Monday, May 24, and will hold a public hearing for the budget on June 7. Adoption will take place in mid- to late June.
Budget Banter
School leaders settled on the following budget adjustments for this year:
* The addition of 1.5 full-time licensed employees for the English Language Learners program.
* Adding one intervention specialist for the elementary schools.
* Adding an assistant principal at Talmadge Middle School.
* $600,000 for the anticipated PERS hike and as reserves for potential revenue shortfalls.
* The district has also included $100,000 in its general fund to cover early retirement incentives, as a way to save against possible layoffs. A one-time benefit of $10,000 is available, but can only be applied to health insurance premiums he or she receives as an enrollee of the district's insurance plan.