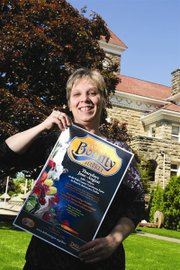 DALLAS -- Ready to shop local?
Starting on Thursday, June 3, the Polk County Bounty Market in downtown Dallas will offer a place to start.
The market, which is operated by the Dallas Area Visitors Center, will feature vendors offering fruits, vegetables, eggs, meat, chocolate, and the work of area artisans. The market will be open on the Polk County Courthouse lawn on Thursdays from 3 to 7 p.m. through the summer until Aug. 26, with the exception of Summerfest week, July 29.
This being the first year of the market, Bonnie Dreier, the market manager, and Chelsea Pope, the Dallas Area Chamber of Commerce executive director, weren't sure how area farms would respond.
Any fears about finding vendors soon disappeared. Eleven farms and artisans have committed to the full market season, with others interested in participating for part of the season. With the opening still two weeks away, Dreier believes the Polk County Bounty Market might even be able to fill its 25 available slots during some weeks this year.
In addition to local food and art, the market will feature music, kids activities and cooking demonstrations by the market chef, Capricorn Catering owner Steve Segal.
He will prepare dishes made with ingredients from the market to demonstrate what shoppers can make with what is offered by local producers.
"He's got a plan and it's going to be very successful," Dreier said. "I'm very excited about it."
Segal said the practice of teaching customers how to cook the food they can purchase at the market is common in farmer markets around the country.
"We are just trying it and seeing how it catches on," he said.
Segal said he may prepare an appetizer, salad, entree or full menu in any given week. Segal would like to involve market customers and will take suggestions about what he should demonstrate, as well as offer recipes to his creations.
Segal said he hopes market customers will learn shopping with local producers offers better flavor, nutritional value and freshness.
"I think it's a great idea," Segal said. "I'm just hoping people will participate so it will become successful."
Dreier said one of the main goals of the market is providing a platform for local farmers to reach customers directly and bring people to the area.
Dan Rosato, owner of Oak Villa Farm, will be selling a variety of vegetables and fruits, including lettuce, broccoli, strawberries, eggs, potatoes, tomatoes and green beans this summer.
Rosato has been going to farmers markets out of the area for years and thought it made sense to participate in one that is only two miles from his Dallas farm.
Rosato said given the success of farmers markets in other cities across the state, large and small, it was time for one in Dallas.
"Dallas and Polk County is ready for a market in the middle of the week," he said.
Laurie and Terry Carlson, owners of Fairview Farm Dairy, also were eager for a local market outlet to sell their aged goat's milk cheese.
Carlson said with the amount of Dallas-area customers she sees at other markets, she believes the farm's booth will do well locally.
"We go to markets and we have customers from Dallas, even when we are in Portland," she said.
Carlson said she is impressed with what area growers produce and believes the market will be a great opportunity for sellers and buyers alike.
Rosato agrees.
"I'm looking forward to growing produce for people in Dallas," Rosato said.
What:
Polk County Bounty Market
When:
3 to 7 p.m. every Thursday beginning June 3 and running through Aug. 26, except for July 29.
Where:
Polk County Courthouse lawn, 850 Main St., downtown Dallas.
Vendor cost:
$25 annual membership and $15 weekly fee.
For more information:
Bonnie Dreier, Dallas Area Visitors Association, 503-623-2564; e-mail to pcb@dallasoregon.org; www.dallasoregon.org/davc.