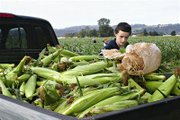 PERRYDALE -- Perrydale FFA will host its annual Perrydale Corn Feed on Saturday, Oct. 9, in Perrydale School's old gym from 5 to 8:30 p.m.
On the menu this year is all the corn on the cob you can eat, hot dogs, potatoes, homemade apple sauce, apple crisp, coffee and juice.
A corn shucking contest, corn eating contest, and a coloring contest provide entertainment during the corn extravaganza.
The annual event, now in its 27th year, is a fundraiser for Perrydale FFA. Money raised during the corn feed will support the program's community service activities, such as the Senior Tea, Spring Fling, Food 4 All food drive, a blood drive, and attendance at seminars and FFA conventions.
In 2009, 650 people attended and the event raised $2,000. Perrydale FFA's goal this year is to raise $2,500.
Admission is $4 for students, $8 for adults, $15 per couple and $25 for a family.
For more information: Perrydale School, 503-623-2040.