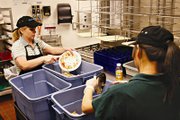 MONMOUTH -- Julie Whitely pulls a plate off the revolving dish belt that separates part of her kitchen from the rest of the Valsetz residential dining facility at Western Oregon University.
She quickly scrapes leftover spaghetti and a couple of napkins into a large blue storage container. A milk carton, because of its wax lining, goes into the trash.
"It's a little messy still," Whitely said as she drops a half-eaten burger, a fry boat and paper plate they sat on into the recycling receptacle.
Since the start of fall term, Whitely, assistant food services manager at WOU's dining hall, and her employees have been tasked with separating food and biodegradable waste from meals from items that can't be recycled.
Western's housing and dining department debuted a composting initiative at the start of fall term. The hope is reducing garbage and lessening the environmental impact of not finishing a meal.
"It would be nice if students were more conscientious of how much food they take," she said. "But it's good to see this will go to compost instead of the landfill."
Karen Nellis, WOU food services director, said the idea cropped up last year as the school switched out the paper products used in its dining hall to compostable varieties sold by Corvallis-based EcNowTech.
The company representative also suggested mixing those items with tossed-out food and transporting it to Allied Waste's new Pacific Region Compost Facility (PRC) near Camp Adair.
"I didn't really have to push the school in this direction, everybody was pretty excited about it," Nellis said.
Brandt's Sanitary Service agreed to haul the material and is actually using the college as a pilot project.
The composting program makes sense, said Dennis Trine, Brandt's manager.
The Department of Environmental Quality imposes standards on waste disposal outfits that requires greater percentages of the refuse they collect to be recycled, Trine said.
"I would say, on average, food waste is about 20 percent of what gets thrown out," he said, noting removing those items would lighten garbage loads. "This is the way to go."
There were 15 or 16 33-gallon containers filled with trash every day last year, Whitely said.
Leftover food from WOU's dining hall
and catering kitchen goes into 65-gallon containers that Brandt's picks up daily, and makes one trip a week to the PRC, where it's converted into plant and agriculture compost. Brandt's dropped off the first ton of WOU material on Sept. 24.
If the Western program proves successful, Trine said he may expand food composting to vendors in Monmouth and Independence.
WOU, meanwhile, intends to place containers that allow for compostable items inside the Werner University Center for patrons of its food court.
Nellis said the staff is slowly, but surely getting adept at sorting items for collection. Still, there's more training to do for the students themselves.
Around lunchtime one day last week, Sarah Weber, a WOU food services dietitian, stationed herself near the trash cans and recycling bins outside the Valsetz kitchen.
"Stop!" Weber hollered, startling one student before she could dump what was left of her meal into a trash can.
Weber quickly explained the composting program and directed her to simply leave her plate on the dish belt for kitchen staff to sort.
The scene repeated itself with perhaps half of the 30 or so people Weber stopped in a few minutes. Many of them expressed approval, however, once learning where the food would be going.
"It's just establishing new habits, which is good," Weber said. "Being a new thing, it might take some getting used to, but we think it's going to make a huge difference."