Wednesday, October 27, 2010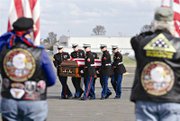 DALLAS -- The last song accompanying a photo slideshow at the beginning of Saturday's memorial service for U.S. Marine Sgt. Ian Tawney was Frank Sinatra's "My Way."
The tribute showed photos of Tawney's life from being an energetic young boy to a Marine and an expectant father.
According to friends and family of Tawney, "My Way" was an apt description of how he led his life.
Community members joined Tawney's family, friends and dozens of fellow Marines at Faith Evangelical Free Church in Dallas on Oct. 23 to honor his life and service, which ended Oct. 16 when Tawney, 25, was killed by an IED blast in Afghanistan's Helmand Province.
Tawney's family knew early in their son's life that he would grow up to be his own man. Tawney's mother, Theda Tawney, sharing stories at Saturday's service, said that was evident even the day he was born.
"He was very intense," she said of her newborn son.
She recalled a nurse telling her she had better rest well and giving her a warning.
"`You are going to have your hands full,'" she remembered the nurse saying. "She was right."
Tawney said at a young age Ian would dress himself, once even wearing shoes from two different pairs. She said when she pointed that out, he told her it was no mistake, but his style.
"Ian knew who he was even then with no apologies," she said.
As Tawney got older, his sense of self translated into leadership ability.
He was involved in Dallas High School leadership and as a sophomore he embarked on a yearlong exchange trip to Argentina. His mom said he opted to take the trip during his sophomore year rather than during the more typical 11th grade because he didn't want to miss his junior year at home.
"He really had a level of independence most high school students didn't," Tawney said in an interview Oct. 21.
Growing up, Tawney played Kids, Inc., baseball and soccer, eventually becoming the captain of the junior varsity soccer team. He also liked to skateboard, snowboard and shoot firearms. Tawney said the latter was a special interest to her son. He become a firearms and martial arts instructor in the Marines.
She said he didn't like to bring too much attention to himself, but leading was natural to him.
"He really flourished in that capacity," Tawney said of her son. "He didn't have a big ego, but people were drawn to him."
Tawney said family members were surprised when he decided to enlist in the U.S. Marines in 2005, noting his independence.
"He felt the Marines would be good for him," she said. "He looked at it as a challenge that he could take on."
Serving in the Marine Corps became more than just a challenge to Tawney.
"He loved being a Marine," she said.
In 2007, he was deployed to Iraq, where he served seven months. Tawney said he didn't talk much about his experience. He would talk about the weather conditions and cultural aspects of where he was stationed, but when it came to his day-to-day missions and responsibilities he was subdued.
However, his time in Iraq helped him decide to make a career of serving in the Marines. He took leadership classes to become a squad leader, where he excelled, graduating as the honor man of his class.
Tawney was a squad leader in Afghanistan, where he was in the beginning of what was to be a seven-month deployment.
Theda Tawney said her son was eager to return home to another new experience. In January, he and his wife of five years, Ashley, whom he met as a child and started dating after high school, were expecting their first child, a girl named Claire.
"He was very excited," Tawney said. "He would have been a wonderful father. That's probably the saddest part for me."
On Friday, Oct. 22, Tawney's hometown welcomed him home.
People lined East Ellendale Avenue and Main Street in downtown Dallas waiting for the caravan, which included the Oregon State Police and Patriot Guard Riders that accompanied Tawney from the Salem Airport to Dallas. Onlookers held signs with messages such as "Thank You" and "Gone but not forgotten." They edged into the street as the procession passed and quietly waved flags and released red, white and blue balloons into the sky.
At Saturday's memorial, Gunnery Sgt. M.R. Webb, who served with Tawney, spoke about his friend's commitment to the Marines.
"If I had one word to describe Ian, it would have to be 'integrity,'" he said.
Webb called Tawney a brother, and his Marine comrades Tawney's extended family.
Pointing out the other Marines in attendance, Webb said to Ashley Tawney: "There are plenty of people to let her (Claire) know what kind of father he would be and what kind of man."
Tawney is survived by his wife, Ashley; parents, John and Theda Tawney; brothers, Shayne Chandler and Jacob Tawney; sisters, Stacy Barham, Karin Lamberton and Karla Cowan; and grandmothers Leona Smith and Kathryn Tawney.
Memorial contributions may be made to the Sgt. Ian Tawney Memorial Fund at the Dallas Branch of Bank of America.