Wednesday, October 27, 2010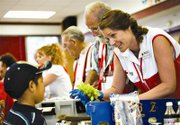 WEST SALEM -- Margaret Sanner had been working at the Willamette Chapter of the American Red Cross for three years when she took part in its relief effort in hurricane-ravaged Florida in 2004.
Sanner, a long-time West Salem resident, drove a Red Cross truck through the southeastern United States to serve communities between Pensacola and West Palm Beach.
During that stint, she estimates her group traveled at least 7,000 miles and served more than 20,000 meals. At housing complexes, they gave first aid for children hurt playing amongst the storm debris.
"It's kind of interesting driving a big rig like that through rough weather," Sanner said. "People see it and know what you're doing, they know you're on your way ... it's a great feeling."
Sanner's nine years with the Red Cross has entailed her responding to local housefires, flooding in Tennessee and the aftermath of hurricanes in Texas and Louisiana. It's also seen her run the gamut from being a volunteer to a top administrator.
She's wearing a new hat now. Sanner was promoted earlier this month to Red Cross executive director, after serving as interim director since July.
"Margaret understands the Red Cross at every level," said Maree Wacker, regional executive for the Oregon Red Cross. "Without question, her strong leadership skills and organizational knowledge will be of great value in addressing our opportunities ahead."
Sanner, 45, was mulling a part-time public information officer stint for the organization when she was asked to apply for the director slot.
"I'm honored," Sanner said. "I'm excited about the work ahead and wanted to be a part of it."
The Red Cross Willamette Chapter covers Polk, Marion and Lincoln counties -- with the latter added to the service area in 2009.
Based on her family's connection to emergency service, Sanner's Red Cross involvement seems natural.
Her parents, Lonnie and Grace Sanner of Independence, helped found in the early 2000s the Polk County Community Emergency Response Team (CERT); Margaret and her three siblings have all had roles in that group.
Her sister, Lonni Nicoll, works for the Oregon Emergency Management office. And Margaret married a professional firefighter.
Margaret said she and her husband were searching for a way to do humanitarian service in 2001 when they began training through the Red Cross as disaster volunteers.
From there, she did support for military families and helped with blood drives. She has since served as an executive assistant, a planner for the chapter's blood services program and as a public information officer.
"The more I got to know about the Red Cross, the more I fell in love with it," she said. "There's always more to learn here."
As director, Sanner is responsible for fundraising, increasing Red Cross public awareness and implementing an organization financial plan.
The duties of the local chapter have grown with the region's population. The Red Cross has responded to more house fires in the first three months of the 2010-11 fiscal year than it did in six months last year. And the expense of that assistance has risen.
"More people are living together in homes because of the economy," she said. "If a house burns down, you're not just helping a family of four or five people ... we're helping families of 11 or 12."
With Lincoln County now part of the service area, there has been more preparedness training along the coast for tsunamis, using resources and personnel located in Newport.
The earthquake in Haiti in January has sparked a greater urgency in educating people about disaster planning and coordination, she said.
"Getting people in this area out of response mode and into readiness mode for a big event is what's going to be challenging," she said. "Haiti gave a good idea of what could occur with catastrophic failures of infrastructure."
Did You Know?
In 2009, the Willamette Chapter of the Red Cross:
* Responded to 71 local disasters.
* Helped collect 26,420 blood donations.
* Taught first aid, CPR and water-safety skills to 18,457 residents.
* Trained more than 475 individuals in disaster preparedness.
* Reached more than 3,100 youths with health and safety education courses.
--
The Red Cross is always in need of volunteers and donations. To learn how you can help, call 503-585-5414 or visit www.redcross-salem.org.