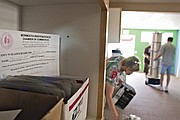 INDEPENDENCE -- The Monmouth-Independence Chamber of Commerce started operations in its new headquarters in Independence on Monday, Aug. 8.
The chamber is sharing Independence's old library at 311 Monmouth St. with the Independence Downtown Association; the latter will use the facility as a town-specific visitor center.
The move was a painless one, given that the chamber has been operating with bare-bones finances and office furnishings, said Marilyn Morton, M-I chamber manager.
Chamber leaders voted in the spring to vacate the facility at 309 N. Pacific Ave. in Monmouth because of the high lease cost and a desire to pump more money into "virtual tourism."
"That's where most of the traffic is coming from," Morton said. "If I was to rank walk-in visits, that would come in at the bottom."
The city of Independence, which owns the property, is allowing the chamber use of the old library building for free for the next two years. Town leaders paid for needed minor repairs to the building, while the chamber has repainted the interior.
Morton said the organization has been advertising the move and plans to place Oregon Department of Transportation directional signs on Highway 99W and Highway 51 to alert drivers to the new location.
The chamber's focus in the coming months is going to be on virtual tourism -- the website and e-mail is how they generate most of their visits, Morton said.
A website revamp has been put up for bid and the chamber is investigating mobile phone applications with a local software developer.
"That's the wave of the future," she said.
The new site will offer some minor operation changes, including selling locally-made and crafted goods. As part of a partnership with IDA, the center will also eventually be open on Saturdays.
Independence officials several months ago offered the former library building to IDA as a visitor center for local tourism -- also rent free.
Jane Honbeck, IDA president, said her group will set up an office and presence at the site in late August, when they add an AmeriCorps VISTA staff member.
Honbeck said she believes the two organizations will compliment one another.
"We're all trying to do the same thing and that's promote our towns," she said.
On the Move
*
The Monmouth-Independence Chamber of Commerce and Visitor Center is now open
for business at its new location at 311 Monmouth St. in Independence
. The old facility on North Pacific Highway in Monmouth will be shuttered on Thursday, Aug. 11. Operating hours are 10 a.m. to 3 p.m. on weekdays. For more information: 503-838-4268; www.micc-or.org.