Tuesday, December 27, 2011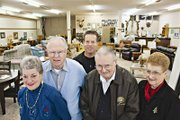 DALLAS -- Bruce Cooley opened Cooley's Furniture Store on Main Street in downtown with $9,000 in inventory and a small shop he paid $75 a month in rent to occupy.
That was Dec. 15, 1945.
Cooley had been working as a sales manager at a furniture store in Salem. After putting in 11 years there, Cooley decided to open his own store.
"He wanted to go into business for himself," said Gary Cooley, Bruce's younger son. "So he sold some property he owned in the West Salem hills (for start-up costs)."
The shop was small and running the store was tough at first. Gary and his older brother, Loren, don't remember much from the early days.
"We were just little kids," Gary said. "We were pretty small."
Cooley opened his business in the midst of an industrial boom in the Dallas area.
"In those days we had two mills going," Gary said. "There was a lot of industry here. Valsetz was going and Falls City was strong. All of that changed over the years, especially in the last several years."
Yet another change in downtown Dallas is about to happen: Loren and Gary are preparing to close the business their father started more than 66 years ago.
Photo by Pete Strong
Gary Cooley, right, and brother Loren have both worked in the family's furniture store for over 50 years. Their father, Bruce Cooley, started the business on Main Street in Dallas in 1945.
The last day for Cooley's Furniture is Saturday.
Gary and Loren grew up in the store, helping out where they could when they were younger. Eventually, though, both followed in their father's footsteps.
Loren was the first to join the business in 1957, after serving in the U.S. Marines.
"First, I worked at the mill (Willamette Industries) for seven months," Loren said. "Then after that my father gave me a job. My first paycheck was $150 per month."
Loren said he was hesitant at first.
"I told him, 'I didn't know anything about it,'" he recalled. "It kind of scared me. He said `You can learn, can't you?' I'm still learning today. You never learn it all in the furniture business."
Loren can remember his first sale -- an electric range sold to a customer who lived on Pioneer Loop. That started a 53-year career at the store.
A couple years later, Gary started working in the delivery and repair departments.
"When we were young, we worked six days a week -- did everything," Loren said. "I did everything but repair. Everything I worked on got worse, so they kicked me out of the repair department."
Soon after Gary began working, the store moved to its current location at 680 Main St. in 1961.
Loren's wife, Mae, and Gary's wife, Carrol, joined their husbands working in the store.
Gary said with no clear "boss," sometimes delicate negotiations were necessary.
"It's a challenge to keep a family business going this many years without a few differences, but we ironed them out," he said.
Soon, a third generation of Cooleys began working at the store -- Gary and Carrol's son, Wayne, and Loren and Mae's sons, David and Steven.
Cooley Family for the Itemizer-Observer
In the early days of the store, Bruce Cooley went to the railroad loading dock himself to pick up new appliances. The crated items would have to be moved to the store two at a time.
Wayne said he remembers coming in the evenings to help put furniture together, comparing it to "building toys." After graduating, Wayne began working at the store in earnest, staying 11 years.
Loren and Gary said they weren't sure how long the business would stay open, but a changing local economy had much to do with the decision to close now.
"We figured we would keep it going as long as it would support us," Gary said, noting a steep decline in customers in recent years due to people shopping out of town or at larger chains. "This is what has happened to so many small businesses."
After 53 years, Loren said he's still learning about his customers and selling furniture.
"No two deals are alike," he said.
"Everybody develops their own style in selling -- soft sale, hard sale ... no sale," Loren continued, adding the last part with a smile. "But you never learn it all. That's for sure."
Now that the family is on the verge of closing the store, Gary and Loren are considering what is next.
"It's just going to be hard to make the change, I'm sure," Gary said. "I guess I will have more 'honey-dos' to do. ... You look back at it and you wonder, where did (the time) go?"
"I'm going to miss the Cooley name being on Main Street," Wayne added. "I think it's sad in a lot of ways, but I think they are ready. It's time. I know they will miss being able to serve the community. They like doing that. They like working here and helping people out."
66 Years of Cooley's
1945 -- Bruce Cooley opens Cooley's Furniture at 811 Main St. with $9,000 in inventory. His rent for the space was $75.
1957 -- Bruce's son, Loren, begins working at the store, following service in the U.S. Marines.
1959 -- Loren's younger brother, Gary, joins the family business.
1961 -- The store moves to its current location at 680 Main St.
1980s -- The store is booming through some of its most successful years. Cooley's adds more furniture, the store is full and sales are strong.
1981 -- A fire breaks out in the back room of the store. If not for a heavy fire door and the quick response of the Dallas Fire Department, the whole store may have been in danger. Arson was ruled the cause. Someone threw a flare in the back room, igniting the fire.
2000s -- Sales decline, the result of a struggling local economy, the proliferation of chain stores and people shopping for furniture in out-of-town stores.
2011 -- Loren and Gary Cooley decide to close the store after 66 years in business in Dallas.