Tuesday, December 27, 2011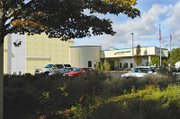 DALLAS -- If you have the occasion to visit West Valley Hospital in the next year, you will notice more than health care-related activity going on.
The hospital recently kicked off a $6.2 million update of its surgery suite and other renovations to improve technology and service.
The project has been divided into four phases. The first began in November, with electrical work and a remodel in the rehabilitation services department. That phase is scheduled to conclude in February. The second through fourth stages will focus on the remodel and 1,400-square-foot expansion of the surgery facilities. Work began in the surgery department earlier this month.
The expansion will enable the hospital to incorporate the latest technology in operating rooms, and build a separate surgical waiting room and consultation area.
WVH Administrator Bob Brannigan said there will be no service interruptions during the project, which is slated for completion in January 2013.
Funding for the remodel comes from the hospital's parent organization, Salem Health, and its cash reserves -- meaning West Valley Hospital didn't have to acquire loans to finance the work. Brannigan said WVH has been able to begin paying back a past loan from Salem Health and sees the organization's willingness to loan more money as a show of confidence in WVH's financial standing.
West Valley Hospital has been able to add services and plan upgrades thanks to a nearly 10 percent operating surplus, which Brannigan said was achieved through streamlining its Medicare billing practices, resulting in a higher rate of return.
"We are demonstrating West Valley Hospital can be self-sustaining," Brannigan said.
WVH used a unique approach to planning and designing the remodel. Brannigan said surgical staff and patients provided input and a full-scale mockup of the entire facility was built in the former grocery store building across the street, giving staff the opportunity to help architects design each room -- right down to where electrical outlets, cabinets and counters will be positioned.
Planning took an extra three or four months and cost the hospital more than what's typical, but Brannigan believes it was worth it.
"The most powerful thing we can do is make sure it comes out right," Brannigan said. "It takes a little longer, but the design is right."
WVH Surgical Supervisor Jennifer Broadus said at first staff members were skeptical about how much involvement they would have. But, now that they've been part of each step of the design, they are eager to work in the new space.
"The ownership is impressive," Broadus said. "They are so excited."
The project -- and several other services introduced at the hospital recently -- is part of a broader effort to "reinvent" West Valley into a viable local option for Polk County residents to seek health care.
"This last year we have been focused on what the Dallas community needs," Brannigan said.
When Brannigan took over as WVH administrator in April 2010, his goal was to improve and expand service to the community. Brannigan feels the hospital has taken big strides forward in the last 18 months.
"We've got great doctors and a great staff and we want the community to use this hospital," Brannigan said.
Brannigan said while growth projections for the surrounding area are modest, the hospital can still entice people who believe they need to go to Salem, Corvallis or McMinnville to turn to West Valley for their health care needs.
"That's where our growth is going to come from," Brannigan said.
JUST THE FACTS
West Valley Hospital Remodel
Cost:
$6.2 million.
Space added:
1,400 square feet -- doubling operating room space.
Improvements:
* Two state-of-the-art surgery suites, equipped with updated video, computer and communication systems technology.
* Larger, more functional operating rooms with improved lighting.
* Separate waiting room for surgery patients' family and an area for private consultations with surgeons.
* A new tracking system enabling families to monitor loved ones undergoing surgery.
* Remodel in the rehabilitation department.
* Electrical improvements.
* An exterior remodel.