Wednesday, January 26, 2011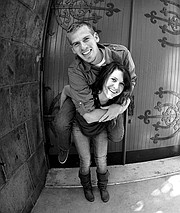 Schmitt-Hiebert
Erica Schmitt of Portland and Dustin Hiebert of Portland are planning a July wedding.
The bride-to-be is the daughter of Mike and Joy Schmitt of Dallas. Her fiance is the son of Doug and Donna Hiebert of Dallas.
Erica, a 2007 graduate of Dallas High School, graduated in 2010 from Portland State University with a Bachelor of Arts in civic leadership. She is employed as a national admissions adviser at American InterContinental University in Beaverton.
Dustin, a 2006 graduate of Dallas High, is attending Concordia University in Portland with plans to graduate in the spring of 2011 with a bachelor's degree in health and physical education. He is a student teacher at Wilson High School in Portland.
The wedding is set for Saturday, July 23, at Lakewood Meadows in Canby.