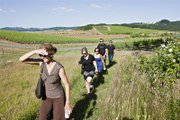 POLK COUNTY -- Rough trails carved out of gentle hills covered in wild blackberry bushes and white oaks on Left Coast Cellar's 300-acre vineyard don't make for the easiest passage.
While the trails require shoes suitable for hiking -- even on a warm summer day -- they offer a close-up view of the vineyard and all the creatures that call it home.
It's more than the average vineyard tour and it's worth the effort.
Many would agree visiting the area's many vineyards and hiking are two great ways to spend a day in Oregon.
How about both at the same time?
Grand Cru Wine Tours, a Monmouth wine tour company, is collaborating with local wineries to create a uniquely Oregon experience: wine hiking.
The tour, including four Polk County vineyards or three vineyards and Chatoe Rogue, is an active outdoor excursion and educational experience, balanced by a healthy dose of the wine and food.
Byron Williams, Grand Cru's owner and one of its three guides, said the tour is designed to offer a one-of-kind experience in a lesser-known part of Oregon's wine country.
"We are trying to build up the area -- the quality and value of the wines here," Williams said. "The hikes gives the (Mid-Willamette Valley) something different to showcase the area."
Grand Cru's wine hiking tour will begin at Johan Vineyards for tasting. Then tour-takers will take a trail to Left Coast Cellars for more wine sipping and lunch prepared at Left Coast's cafe. The tour will take the group on a hike through the vineyard on newly shaped and marked trails.
After lunch, the tour will embark on the lengthiest part of the hike, about 3.5 miles to Van Duzer Vineyards to taste wines from new winemaker Jerry Murray.
Photo by Pete Strong
Van Duzer Vineyards winemaker Jerry Murray talks to a tour group about the impact on wine grapes of the cool air brought to the Willamette Valley from the Pacific Ocean by the break in the Oregon Coast Range known as the Van Duzer Corridor.
From Van Duzer, hikers head out to Baskett Slough National Wildlife Refuge to observe birds, butterflies and other wildlife. A van will pick up tour groups at Baskett Slough and take them to either Firesteed Cellars or Rogue Brewery's Chatoe Rogue Micro Hopyard and tasting room near Independence for the last stop on the tour.
Williams said the tour's focus on wildlife viewing sets the hike apart from more traditional wine tours, where people are driven from winery to winery.
"To me, it makes it more of a unique experience," Williams said.
At Baskett Slough, people can catch glimpses of a vast variety of bird species, the largest remaining population of Fender's Blue butterflies, and Williams said he even has spotted a small herd of elk in the area.
The trails at Left Coast Cellars also provide opportunity for wildlife viewing.
"There are so many interesting birds," said Ivy Hover, part of Left Coast's hospitality staff, of what can be seen from the trails. "You never know what wildlife will appear."
Williams said the idea behind the wine hiking tour stemmed from a visit to Left Coast's miles of trails. He said the trails, which feature White Oak groves, fruit and nut tree orchards, meadows and the vineyard's picturesque rows of grape vines, inspired the idea of creating a hike connecting a series of wineries.
Hover said Left Coast was slowly getting the trails prepared to open them up when Williams suggested the idea.
"We thought it was a great idea because we had already established the trails, but hadn't had the time to get them ready for the public," Hover said.
In addition to tasting a variety of wines, tour takers will enjoy a meal made in large part with ingredients grown on Left Coast's estate.
The tour includes about 9 miles of trails, none that are too strenuous, and will take up to six and a half hours to complete.
Williams said the wine hikes will feature some of his favorite winemakers and vineyards.
An admirer of Willamette Valley wines for nearly 10 years, Williams started Grand Cru in 2009. It held its first tour in April 2010.
Photo by Pete Strong
Nick Kules and Amanda Sanders of Salem taste a pinot gris at Firesteed Cellars, which serves as the end point of Grand Cru's wine hiking tour, interchangeable with Rogue Brewery's Micro Hopyard near Independence.
Williams had developed an interest in cooking while in college, studying accounting and finance. On a tour and tasting at Willamette Valley Vineyards in Turner -- which focused mainly on the business and financial side of the winery -- Williams discovered what he considered a perfect companion to good food: wine.
"That was my first real experience with wine," Williams said.
He was given a bottle to take with him, the name and vintage of which Williams still remembers.
"It was a 2002 Freedom Hill pinot," he said. "I took that bottle home and was having it with dinner. The combination of the wine and food was more exciting than one without the other."
Williams took jobs in tasting rooms to learn more about wine, gradually becoming a student and admirer of the craft.
Williams launched Grand Cru Wine Tours to share his passion for wine with others. Now about half of the tours are in the more widely-known winemaking area around Dundee and Newberg. The rest are split in the Salem and Eugene areas, with tours in those areas including not only wineries, but breweries and distilleries.
Williams said the pinot grapes that went into the bottle that inspired his love of wine were grown in a vineyard near Dallas, so he has a special place in his oenophile heart for the wines of this region.
The wine hikes, being exclusively in Polk County, will help highlight what he believes is special about wines made here.
"I've gone to almost every winery in the Willamette Valley and I always come back here," he said.