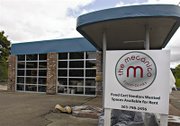 INDEPENDENCE -- A long-shuttered property in downtown Independence is about to be reborn.
The 1,000-square-foot garage at 87 N. Main St. is locally referred to as "The Mecanico" building, after its past life as an auto shop.
"Or that's what the legend is," said Matthew Lind, principal broker for Facet Real Estate and owner of the facility. "It's been vacant for about 10 years."
The Mecanico will live again as a two-part venture. Lind plans to turn the renovated facility into a small seasonal pub and concession stand serving wine, microbrews and sodas.
A gravel pad on the north side of the property will house a food cart cluster.
A grand opening is planned for July 1, in time for the July 4 Independence Day festivities.
Lind purchased the site from the city of Independence three years ago, then paid for extensive environmental mitigation. His original vision was to raze the building for an event pavilion. The recession delayed that.
"But it's a perfect setting, right off the Willamette River," Lind said. "It has a lot of potential."
So he devised a plan for a concession site that could eventually house a small brewery. He gutted and renovated the old building and constructed a largely glass facade.
"It's like a fish bowl," he said. "The view goes right into the park."
Lind wants to add a nanobrewery. He and a business partner already have their own concept in mind, Oregon Reigns Brewery, and have even sought out a liquor license.
"We want to have other local brewers as well, showcasing small batch beers," he said.
The food carts, meanwhile, will capitalize on a renaissance for food cart culture, with Portland being one of the nation's epicenters.
"It's going on all over the place. You could say we want to emulate that trend," Lind said.
The space will house four to six high-end food cart vendors. The first two are the Wild Pineapple and Minto Island Growers, both Salem-area businesses.
Wild Pineapple specializes in teriyaki and Hawaiian-style barbecue; Minto Island Growers will serve up a menu based on its fresh produce and using locally produced meats, cheeses and other food.
The concession stand will go through the summer season, with the market dictating how long it will stay open during the year. The cart vendors, meanwhile, will be able to operate on their own schedule independently.
Eat and Drink
* The Mecanico will open on July 1. Regular operating schedule hasn't been established yet. Food cart vendors interested in leasing a space are encouraged to contact Matthew Lind at matthew@facetrealestate.com; or call 503-689-1763 or 503-798-2456.