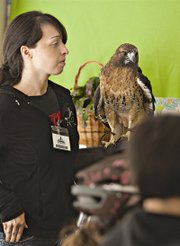 Master Gardener's
plant sale on tap
The Polk County Chapter of OSU Master Gardeners will hold its 21th annual plant sale Friday and Saturday, May 6-7, in Building C at the Polk County Fairgrounds.
Sale hours are 9 a.m. to 5 p.m. both days at the fairgrounds, 520 S. Pacific Highway (99W), Rickreall. Admission and parking is free, and door prizes will be awarded.
Thousands of plants of all kinds will be available for sale. The "Country Store" will have unique house, yard and garden items as well.
For more information: Polk County OSU Extension office, 503-623-8395.
Spring book sale
set this weekend
Friends of the Monmouth Public Library will conduct its annual spring book sale on Friday and Saturday, May 6-7.
Sale hours are 2 to 6 p.m. on Friday and 9 a.m. to 2 p.m. on Saturday. A special pre-sale for Friends of the Library members is Friday from 1 to 2 p.m.
Memberships will be available during the sale. Annual cost is $10 for individuals, $25 for families and $30 for businesses.
For more information: 503-838-1741.
Late-night bowling
event to aid 'Relay'
A bedtime bowl-a-thon to strike out cancer has been scheduled Friday, May 6, beginning at 11 p.m. at Starlite Lanes in Dallas.
Coordinated by Oregon First Community Credit Union, the event is seeking teams of four for a late night of bowling fun, food, prizes and silent auctions to benefit the American Cancer Society's Relay For Life of Polk County.
Cost is a minimum $20 per person and includes three games of bowling, shoe rentals, pizza, beverage and ice cream bar.
For more information or to register your team: Khari, Christy, Gael or Travis, Oregon First Community Credit Union, 503-831-3331.
Saturday breakfast
planned at center
Monmouth Senior Center will host its monthly all-you-can-eat community breakfast fundraiser on Saturday, May 7, from 8:30 to 10:30 a.m. at 180 S. Warren St.
Cost is $5 per person, $3 for children under 12. The menu usually includes eggs, sausage, biscuits and gravy, pancakes, orange juice, coffee and tea. Proceeds benefit the Monmouth Senior Center building expansion fund.
For more information: 503-838-5678.
Garden club to hold
annual plant sale
Monmouth Garden Club will hold its annual plant sale Saturday, May 7, from 9 a.m. until 2 p.m. at the Monmouth Public Library, 168 S. Ecols St.
Club members have donated a variety of materials that will be available for purchase, including landscape perennials, trees, shrubs, bulbs, annuals, vegetable plants, herbs and house plants. Proceeds raise funds for community beatification projects.
Monmouth Garden Club members will also be available to answer questions.
For more information: Susan Whitaker, 503-910-3569.
Model train event
slated in Rickreall
A model train swap meet and show will be held Saturday and Sunday, May 7-8, at the Rickreall Grange Hall, 280 Main St. (99W), Rickreall.
The event runs from 10 a.m. to 4 p.m. both days.
Saturday admission is $5, which includes admission for Sunday. Attendees can get $1 off their admission cost with a donation of a canned food item.
Vendor space is also available. Cost is $15 for a 6-foot table and $20 for an 8-foot table.
For more information: Tom Pryor, 503-606-0398; e-mail to PRY626@juno.com.
Pentacle will host
auditions for play
Pentacle Theatre will hold auditions Saturday, May 7, at 1 p.m. for its summer production of "The Underpants."
Auditions take place in the theater lobby, 324 52nd Ave. NW, West Salem. The cast includes five males (ages 20-80) and two females (ages 20-50).
The audition consists of readings from the script, which is available for a $10 deposit at the theater's business office at 145 Liberty St. NE in Salem.
For more information: Director Jenni Bertels, 971-388-2772; e-mail to writejenni@hotmail.com; www.pentacletheatre.org.
Audubon Society
to feature speaker
Chris Shank of Dallas will be the featured speaker during Salem Audubon Society's "Appreciating the Uniqueness of Birds" presentation on Tuesday, May 10.
The event, free and open to the public, takes place beginning at 6:30 p.m. in Room 209 of Eaton Hall at Willamette University in Salem.
Shank will use two of her cockatoos to illustrate general avian physical attributes as well as specific cockatoo characterists and behaviors and how they may or may not differ from native Oregon birds.
For more information: 503-588-7340.
Workshop to offer
tips to caregivers
Powerful Tools for Caregivers, a six-week educational series designed to provide caregivers with the tools needed for self care, will be offered in Dallas beginning next week.
The course is designed to help family caregivers reduce stress, improve self-confidence, communicate feelings better, balance their lives, increase their ability to make tough decisions and locate helpful resources.
Classes will be held at West Valley Housing Authority in Dallas on Thursdays from 2:30 to 5 p.m. May 12 through June 16. Class size is limited and preregistration is required.
For more information or to register: Liz Connor, 503-856-7084; e-mail to econnor@ccswv.org.