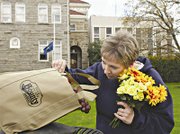 DALLAS -- The Polk County Bounty Market last year "hit a home run" in the words of Bonnie Dreier, the market's manager.
As the market opens its second season in downtown Dallas Thursday, May 5, Dreier is hoping for the same kind of success -- if not more.
The opening market will start at a new time, 2 p.m., and feature at least 14 vendors, with returning favorites Bermudez Family Farms, Good and Bready and ABS Bears. Among the notable newcomers this year is The Bread Board of Falls City.
The Dallas High School Stage Band will provide entertainment for the first week's shoppers. For the youngsters, the first week's activity will be making Mother's Day cards.
Dreier said the 2010 season experience and vendors have provided valuable input that helped shape this year's format.
"I've learned a lot and I'm impressed by our vendors," Dreier said. "It's a very good market."
Last year, nearly 6,300 shoppers visited the market, which averaged 22 vendors per week throughout the season. Originally scheduled to run from June through August, vendors requested an extension of the inaugural season into September.
This year, the market is opening a month earlier than last year and has increased its maximum vendor space to 35 booths, up from 25 last year.
The early start is at the request of vendors who participated at the market last year. The No. 1 response of vendors in a postseason survey was a longer season.
"Overwhelmingly they said it would be nice to start earlier," said Chelsea Pope, the executive director of the Dallas Area Chamber of Commerce.
Summerfest week in July has also been added to the schedule.
Dreier said she is pleased with the number of vendors who have jumped on board -- 19 so far -- keeping in mind that there was about the same number in the inaugural week last year, which was a month later.
Produce vendor slots are filled, but Dreier said she is still looking for artisans, cheesemakers, mushroom growers and beer and wine vendors. Dreier added the market has more space for nonprofits to set up and advertise their services.
"There's potential for nonprofits to have a lot of exposure," Pope said, adding the goal is to help customers find the services they need locally.
This year, the market is accepting debit cards, is WIC certified and eligible to accept Supplemental Nutritional Assistance Program (SNAP) benefits.
Cooking demonstrations, courtesy of Steve Segal from Capricorn Catering, will be a market staple, though likely not every week. Pope said this year the demonstrations may be more like cooking classes in which Segal teaches people not only how to use locally grown produce in meals, but also basic cooking techniques and tips.
"The hope and the goal is to educate so people will be able to use what is in our community," Pope said.
Dreier said those who grew to look forward to the market last year won't be disappointed with the 2011 season.
"It's the same, but even more," she said.
Market Season
What:
Polk County Bounty Market.
When:
Every Thursday, May 5 through Sept. 29, from 2 to 6 p.m.
Where:
Polk County Courthouse lawn, 850 Main St., downtown Dallas.
Of Note:
Polk County Bounty Market is looking for volunteers to help out during market hours and with set up and tear down. To volunteer, contact Bonnie Dreier at 503-623-2564.
For more information:
See vendor lists, scheduled entertainment and children's activities, and more at www.dallasoregon.org/davc/index.htm.