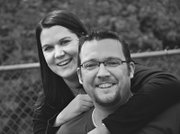 Lemmon-Eisele
Jennifer Lemmon of Monmouth and Matthew Eisele of Salem are planning a November wedding.
The bride-to-be is the daughter of Jay and Brenda Lemmon of Otis. Her fiance is the son of Dennis and Jeanne Eisele of West Linn.
Jennifer, a 1997 graduate of Taft High School in Lincoln City. She graduated in 2001 from Western Oregon University in Monmouth with a Bachelor of Science in speech communication and received her Master of Arts in Teaching from Willamette University in Salem in 2007. She is a sixth-grade teacher at Talmadge Middle School in Independence.
Matthew, a 1995 graduate of West Linn High School, graduated in 2000 from Saint Martin's University in Lacey, Wash., with a Bachelor of Arts in business. He is employed as a purchasing agent at Platt Electric in Beaverton.
The wedding is set for Saturday, Nov. 19, at Green Villa Barn in Independence.