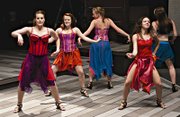 MONMOUTH -- "Make love, not war."
The Greek playwright Aristophanes might not have known when he penned "Lysistrata" almost 2,400 years ago that his anti-war and sex comedy would resonate with generations that have followed.
He might be tickled, though, knowing his work was the impetus for a slogan championed by the counterculture of the 1960s during the Vietnam War -- or that an international peace protest with readings of his play would follow the Iraq disarmament crisis in 2003.
"War doesn't go away," said Michael Phillips, Western Oregon University theater professor. "The way Aristophanes chose to tackle it was a sex comedy.
"Those haven't gone away, either."
WOU's theater department will start a four-day run of this sexually-charged production tonight (Wednesday, May 25).
"It's pretty outrageous, bawdy, silly and terse in some ways," Phillips said.
Set and written during the Peloponnesian War, the play follows Lysistrata -- portrayed by WOU junior Megan Wacker -- as she assembles the women of Athens and Sparta in a plot to end the fighting.
Their method? Withhold sex from their husbands and lovers as a way to force the parties to negotiate a truce.
Phillips said he's been trying to cover more historical periods during his eight years at WOU, with "Lysistrata" at the top of his list.
The play has been translated many times during its lifespan. Western will use the 1988 version by Jeffrey Henderson. While it makes use of poetry and verse, the language is relatively straightforward. And the production is liberally peppered with sexual innuendo, double entendres and sight gags, Phillips said.
The play won't have an ancient Greece appearance, though elements of Greek theater remain, including the open stage and dancing.
WOU senior Kaitlin Bauld, who portrays Myrhinne, does double-duty as the show's choreographer. There will be modern dance and contemporary music elements to it, Phillips said.
As old as it is, Lysistrata's dialogue and jokes are still enough to make the cast blush, he opined.
"When you read it for the first time, it's surprising because it's so bold," Phillips said. "Rehearsals are full of laughter. It's kind of a pleasure to work on it."
Wacker, whose hometown is St. Helens, said bringing Lysistrata to life is somewhat intimidating.
"She's a strong woman with brilliant ideas," she said. "But I've come to love this character and to appreciate how much women have a say in society."
Wacker said she and castmates have embraced the banter and subject matter of the play.
"You'll leave laughing, but after a few hours go by, that anti-war message will hit," she said. "It's really a cool combination."
On Stage
What:
Western Oregon University department of theater and dance presents "Lysistrata."
When:
Wednesday-Saturday, May 25-28. Start time is 7:30 p.m. There will be a special midnight performance on Friday, May 27.
Where:
Rice Auditorium, Western Oregon University, 345 N. Monmouth Ave., Monmouth.
Of note:
The cast 12 includes Megan Wacker as Lysistrata, Margaret Sherbourne as Calonice, Kaitlin Bauld as Myrrhine and Rebekah Wagner as Lampito.
Admission:
$7 for students, $10 for seniors and $12 for general admission. Tickets can be reserved at or purchased at the Rice Auditorium box office.
Warning:
"Lysistrata" contains adult content and is not suitable for children.
For more information:
503-838-8462.