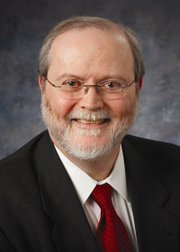 DALLAS -- West Valley Hospital is facing about $2 million in budget cuts over the next two years if health care reforms proposed in the state's 2011-13 budget are approved.
The reforms, packaged in House Bill 3650, would reduce reimbursements to health care providers who treat patients covered by Medicaid under the Oregon Health Plan (OHP).
The legislation would cut reimbursement payments by 11.5 percent in the first year of the 2011-13 biennium and an addition 15 percent in the second year.
The first-year cut of 11.5 percent hinges on an agreement to use the proceeds of an increase in a "provider tax" on the state's largest 26 hospitals to ease reductions to reimbursement rates. Otherwise, the cut in the first year of the biennium would be 19 percent.
Either way, the cuts will still be significant, said Bob Brannigan, West Valley Hospital's chief administrator.
"I have seen a lot of cuts in my career, but I have never seen anything like this," Brannigan said.
What's more is that West Valley and many other small hospitals will be hit with another immediate cut if the reforms happen.
HB 3650 would overhaul health care delivery systems in Oregon, and in doing so, it would change the way rural hospitals are reimbursed for care of patients covered by Medicaid.
Currently, smaller hospitals are reimbursed based on their actual costs of providing care. That would be changed under the bill's proposal to a flat-rate reimbursement based on patient diagnosis and treatment, the same way larger hospitals have been paid.
That change would represent an immediate drop in payments of 20 percent and that is on top of the first- and second-year reductions. That means by the second year of the 2011-13 budget, West Valley would be receiving 46 percent less in Medicaid payments than it currently does.
Brannigan said the reforms represent a major change in rural health policy that he doesn't believe has been thoroughly vetted and could leave people in rural areas with fewer health care options as the cost of providing care to people on OHP increases.
"It's just going to make access all the more difficult," he said.
Rep. Jim Thompson (R-Dallas) is on the Oregon House committee that created the bill. He said rural hospitals have good reason for concern over the cuts, but he is hoping to reduce or eliminate the reimbursement reduction to rural hospitals.
"I think we are getting it worked out, but we aren't there yet," he said. "My concern is that we will have this great insurance program for Medicaid patients, but no one will take it."
Part of staving off reimbursement cuts may have to be reducing what is covered by OHP, which is not a desirable option but perhaps a necessity in Thompson's opinion.
He said forcing Medicare patients to seek treatment in emergency rooms because other providers can't afford to treat them is unacceptable, as is the prospect of losing rural hospitals in remote locations that desperately need them.
Facing increasing costs and decreasing revenue, Gov. John Kitzhaber began the ongoing effort to reform the state's health care system. The bill reforms the health care delivery system to create coordinated care organizations, which will focus on preventative care and managing chronic illnesses in a more cost-effective way.
The legislation was the product of the Joint Committee on Health Care Transformation, an outgrowth of Kitzhaber's Health Care Transformation Team. The bill was forwarded to the Joint Ways and Means Committee on May 18.
"This is a very important first step in reducing the cost of health care for Oregonians while improving quality," Kitzhaber said in a press release. "The cost of health care is perhaps the fastest growing cost for families, individuals and businesses, and this move by the legislature is an important first step in giving Oregon a leadership role in reforming the health care system for our state."
However, Brannigan said as they stand, the payment reductions will have a negative impact on West Valley and the community.
"We would have to change our service level in order to meet this new budget," Brannigan said. "It would be significant."
He said West Valley Hospital has made great strides in recent years and is now in a position to reinvest in itself.
Last year, the hospital made $1.5 million in technology improvements and is planning a $4 million overhaul of its surgery facilities.
"We are in the black and have a positive net income," Brannigan said. But "this reduction would really threaten all of that."
Thompson said time is running short for policy work on the reforms as the close of the legislative session looms, possibly as soon as June 17. But he said changes are in the works that may significantly reduce the impact to rural hospitals.
"I'm optimistic that we are doing what we have to do under the circumstances," Thompson said. "We are watching the money go down and the problem remain the same, so there are no easy answers."