Tuesday, November 15, 2011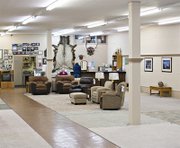 DALLAS -- After 66 years in business in Dallas, Cooley's Furniture will close its doors permanently at the end of the year.
Brothers Gary and Loren Cooley announced last week the closure of the business, which their father, Alton Bruce Cooley, opened in Dallas on Dec. 15, 1945.
"We are both at the point where we need to retire," Gary Cooley said of why the business is closing.
Cooley's first location was where the Dallas Antique Mall is now, 811 Main St. In 1961, the business moved to its current location at 680 Main St.
Cooley said he and his brother grew up helping in the store, but began managing the family business in the late 1950s.
Eventually, their kids were old enough to lend a hand assembling furniture and working in the store.
"There's a lot of good memories here," Cooley said. "We've had some really good years in Dallas and some lean years."
He said the last few years are firmly in the latter category.
"The economy certainly has something to do with it," he said. "It affects everything."
The Cooley's building has been for sale for about 2« years, in preparation for the brothers' eventual retirement. The Cooleys decided the store's last day will be Dec. 31. Cooley said they will sell as much inventory as possible before then.
"Inventory is down quite a bit," he said. "We used to have this full of furniture."
Cooley said he wanted to thank customers and the Dallas community for support through the years.
"There's been a lot of good years and a lot of good customers," he said, reflecting on the business' 66 years. "We want to thank them for their support and helping us get through. It doesn't seem like it's been that long. It's been fun."