Tuesday, October 18, 2011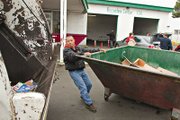 POLK COUNTY -- Polk County did a better job of keeping trash out of landfills than most Oregon counties last year.
That's according to a recent report by the state Department of Environmental Quality that examined the handling of materials -- for disposal or recovery through recycling, composting and burning for energy -- in 2010.
Polk County has a waste recovery rate of 47.6 percent, which is calculated by dividing the amount of waste recovered by the sum of recovered discards and things simply tossed out.
Co-mingled recycling offered by local garbage haulers in the last few years and more accurate collection reporting have driven the county's positive results, said Jim Solvedt, Polk environmental health supervisor.
"People are doing a good job of recycling," Solvedt said.
He added that the county's rate is influenced heavily by West Salem, where Valley Recycling and Disposal has been at the forefront of waste-reduction education efforts.
"That area is bombarded with information about recycling and they have proactive green schools," Solvedt said.
Polk's rate ranks sixth among 35 counties or municipal entities in Oregon, the report showed. The Portland-metro area and Lane County had the highest recovery rates, both above 57 percent.
The state's overall recovery rate -- and goal for last year -- is 50 percent.
More than 33,000 pounds of the 72,650 pounds of waste generated in Polk was recovered in 2010, according to DEQ's analysis. Waste generated and recovered here per capita is 1,947 pounds and 887 pounds, respectively.
Allied Waste in Dallas and Brandt's Sanitary Service in Monmouth-Independence have been offering co-mingled recycling to customers and curbside yard debris pickup within the last few years.
The services have made it easier to recycle and compost and have increased rates for both activities, said Chuck Lerwick, Allied's operations manager.
"I think it's economically driven, as well," Lerwick said. "You can reduce the size of your garbage service by `precycling' when you shop and recycling everything you can."
Overall, Oregon's whole waste pile remained nearly constant in 2010, while recovery of materials rose and disposal fell, according to the DEQ.
Improvement in recycling and composting may simply be a function of both becoming social norms, Solvedt said. There's also been a silver lining to the recession when it comes to trash, he added.
"We're just generating less waste," he said.
Still, area governments and garbage franchises can take some credit. Because Polk lacks landfills and associated solid waste education programs, there's been an abundance of cooperation when it comes to recycling brochures, inserts and other trash reduction efforts, Solvedt said.
The county applied for grant funding to coordinate household hazardous waste collection in 2001; about 20,000 pounds of material are collected annually through two events.
Salem-based Garten Services established an electronic waste depot off Monmouth Cutoff Road in Dallas in 2008 to help accommodate a landfill ban on computers, televisions and other devices.
And last year, Brandt's and Western Oregon University established a food composting pilot project, with food waste being collected at the campus' dining halls.