Tuesday, October 25, 2011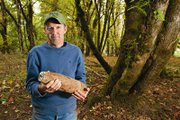 MONMOUTH -- It's an outgrowth of being a dairy farmer that has conditioned Jon Bansen to more often than not walk with his head down -- "you're always looking at the ground to see what's happening there."
Thank God for the habit on Oct. 14.
Bansen was traversing land he leases to the northeast of his organic dairy farm, Double J Jerseys, near Monmouth, looking for a heifer that had wandered from the herd two days earlier.
As he was strolling out of a woodlot that he's been in "hundreds of times," he noticed a large artillery shell lying completely unexposed -- and with a very functional-looking fuse -- near his feet.
"I was pretty surprised; I had never seen it before," Bansen said. "My cows have gone through that area for years.
"It looked fairly new, not like it had been sitting there for 70 years."
Bansen gave the ordinance a wide berth, called off his dog to keep it from running over it, went home and called the Polk County Sheriff's Office.
"They showed up in about 5 minutes," Bansen said. "Then, they called the (Salem Police Department) Bomb Squad ... they came and said `we're not touching it either.'
Eventually, an Air Force Explosive Ordinance Disposal unit came to deal with what was determined to be a pre-World War II shell that measured 2 feet long and weighed 112 pounds. The tip contained 15 pounds of TNT, according to the sheriff's office.
"They set up a center here the next morning," Bansen said. "It was a pretty big operation."
That remnants of WWII were found near Bansen's farm is no surprise. Bansen's property and the surrounding landscape was once part of the more than 50,000-acre Camp Adair cantonment between 1942 and 1946.
Bansen said his property sat in the middle of a bombing range and that old-timers have told him that the far east end of Elkins Road
Photo by Pete Strong
Dairy farmer Jon Bansen found this unexploded World War II-era artillery shell on his property on Elkins Road. Bansen said he had walked that area "hundreds of times."
used to be the staging area for artillery.
"Back in the 1970s, we would get calls about one or two shells in fields a year," said Polk County Sheriff Bob Wolfe. "Some were live, most of them were not."
Bansen said he regularly finds shrapnel on his land and owns property with trees scarred by bomb fragments. This past summer, he accidentally hit a shell similar to this recent find while working ground in a nearby field.
Thankfully, "this one was empty," said Bansen, who kept it as a souvenir.
The live ordinance -- which had a range of 12 miles -- was found just east of the Little Luckiamute River. Sheriff's deputies guarded the site through the evening of Oct. 14.
Air Force personnel used a robot to move the shell into a 6-foot trench the next morning.
The device was covered with dirt and sandbags before it was detonated. The process left a crater several feet deep, Bansen said.
Bansen wasn't around when the ordinance was disposed of and never bothered to inquire about watching.
"I didn't need to be in these woods when they blew it up," he said.
Bansen said he wouldn't lose sleep over his find, though he might be a bit more cautious when walking through wooded areas.
He did find the heifer the next day while canoeing up the river; he spotted her dining on grass about 20 feet away from a deer.
"It ended well," he said. "But it was a strange weekend in all."