Wednesday, September 21, 2011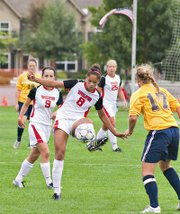 MONMOUTH -- Western Oregon is undefeated two games into its Great Northwest Athletic Conference schedule for the first time since 2001 after a 1-1 tie Sept. 17 against visiting Montana State Billings.
Western (2-2-2 overall, 1-1-0 GNAC) took a 1-0 lead against Billings in the game's 12th minute when Kymberly Witmer rocketed in a shot from the top of the penalty area.
Billings (4-1-1, 1-1-0) got the tying goal in the 46th minute as Heidi Greenback headed in a cross from Whitney Siler.
The best scoring opportunity after that came in the second overtime, but a shot by Western's LaChante Horton sailed over the crossbar.
"We wanted to win, but we felt even a tie would be good," Western coach Steve Ancheta said. "I thought my team played its heart out and gave it everything they had. It was two great teams battling today through double overtime."
WOU goalkeeper Brittney Rigtrup saw her streak of 235 minutes without allowing a goal end in the match, but still recorded three saves as her record moved to 2-2-2. The Wolves' defense allowed just four shots on goal during the match.
The Wolves next will play at Central Washington Thursday, Sept. 22.