Tuesday, September 27, 2011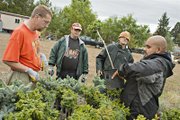 MONMOUTH -- Financial challenges have prompted Partnerships in Community Living Inc. (PCL) to reorganize its operation and temporarily shutter one of its community businesses.
PCL closed its New Seasons Nursery off Highway 51 north of Independence at the end of August.
During the last year, PCL instituted a wage freeze and altered benefit packages to its 700 regular workers across five counties.
"We're hoping these measures are temporary," said Gary Zenzen, PCL business development director. "But we've made the needed changes to keep us in the black. No jobs or training opportunities have been lost."
Established in 1986, PCL provides residential and employment services to about 250 people with developmental disabilities. It also operates several businesses in Polk County as training sites for its charges.
But PCL has been under budget pressure during the last two years, Zenzen said. Almost 98 percent of its revenue comes from the state -- funding was reduced last year.
That's what partly drove the closure of PCL's DownTown Cafe in Monmouth in February 2010.
New Seasons was established seven years ago as a nursery and retail site. Rising lease costs and other expenses and dismal sales put the business at a "fairly substantial loss," Zenzen said.
"The nursery industry has been tough," Zenzen said.
PCL purchased in June a 4-acre property off Gun Club Road in Independence as part of an organizational "reinvestment."
It has relocated its New Seasons plant stock, employees and clients there. The site is now being used for landscape support of PCL properties in Polk and Marion counties.
It's also a staging ground for the organization's Lawn Rangers business. Between the two functions, clients who worked at the nursery still have job training, Zenzen said.
"It's the same type of work they were doing at the old location," he said.
Plants on the site will be sold at area farmers markets. And the Lawn Rangers effort has grown, and has 80 contracts throughout Polk and Marion counties.
PCL plans to develop the Gun Club property with affordable, high-density housing in the future. When that happens, the organization may try to restart the nursery business, Zenzen said.
PCL is about to begin a $300,000 renovation on its headquarters in Monmouth -- which seems curious given the money troubles. Zenzen said it's not hurting the bottom line.
The nonprofit has refinanced loans on its nine properties, at a greatly reduced interest rate; the savings alone will pay for construction, he said.
"What we're doing to finance the remodel is using the equity that we've gained on other buildings," he said.