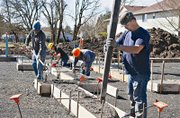 MONMOUTH -- Randy Killen's construction crew was stymied by rain last week as it attempted to lay foundation for his forthcoming Catron Place Apartments.
Killen, the property owner and developer, said he had hoped to have concrete slabs for the project off Catron Street -- 60 units spanning six buildings -- "done yesterday."
"That's building in the Northwest for you," he said. What's important, however, "is I'm still busy working."
There's building happening in Monmouth. And in the context of a down economy, it's not inaccurate to say the city is undergoing a "boom" as far as new multifamily housing goes, said City Manager Scott McClure.
Killen's is one of two large complexes going up. Coe Properties LLC. of Portland is erecting 22 units in two buildings near the corner of Whitesell Street and Monmouth Avenue.
There are also a handful of duplexes, triplexes and fourplexes on properties along Clay Street and College Street under construction.
Not
Photo by Pete Strong
Alex Archuleta, left, and Johnnie Sladick of Owen Construction work through a rain squall Thursday at the site of a new 60-unit apartment complex on Catron Street.
counting Western Oregon University's own projects, there are more high-density housing units being erected right now than at any one time since at least the late 1990s, said Larry Thornton, Monmouth building official and inspector.
"There hasn't been really large housing (complexes)
like Catron Place since I've been here, and I'm going on 14 years," Thornton said. "We're doing a lot better than a lot of places."
To be certain, the building market is still slow. Last week, Thornton said there were three new single-family homes being built in Monmouth. He's issued less than 100 new general building permits to date in 2012.
High-density housing appears to be somewhat immune as there's a real market for rentals right now -- especially in university towns, said Killen, a Monmouth native now based in Camas, Wash.
"Monmouth's rentals are 98 percent full," he said. "Enrollment at Western is high; you'll see that at all colleges, probably because of the job market."
To the south, work on an 82-unit complex started in Corvallis near Oregon State University in December. A separate 90-unit project at the edge of that campus is also under discussion. And a 300-unit student apartment complex is proposed in Eugene's urban core to draw University of Oregon students downtown.
Western has a combination of townhouses, family and single-student apartments that often have waiting lists.
Tina Fuchs, WOU dean of housing, said Western's nonresidence hall housing on Knox Street and townhouses on Stadium Drive are usually full, as is WOU's 207-bed Arbor Park student apartment building.
Still, WOU doesn't have imminent plans to build more nontraditional campus housing.
"I do think our enrollment has grown incrementally and there's a demand for off-campus living," she said.
Jan Eggert, head of property management at Windermere Real Estate in Monmouth, said vacancy in her company's 542 rentals is at about 2 percent. Those numbers are more typical of heavy move-in times in September, she said.
"Normally, we're running at 7 percent to 9 percent this time of year," Eggert said.
Eggert noted she's seen a rise in customers interested in renting because they've lost homes, jobs or are downsizing.
McClure said the city has needed the housing activity to boost its building department, which relies primarily on permits for revenue.
McClure said Killen's development, which should be finished by September, should also prove beneficial.
The city covered $50,000 of the project's roughly $250,000 in system development charges. But it's also one of the first large-scale projects to be erected in Monmouth's urban renewal district (URD).
"We are anticipating $65,000 in annual URD property tax revenue from this project," he said.