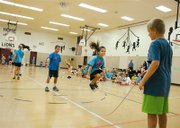 Central Lions Club
will host Cruise-In
The Central Lions Club will be hosting a Cruise-In at Independence's Riverview Park on Saturday. The event runs 9 a.m. to 3 p.m. and is free to the public.
All makes and models are welcome at the event, which will begin with a pancake breakfast.
The cost to register a car is $20.
For more information, call Debbie Bach, 503-508-2130.
81st Pioneer Loop
picnic is Thursday
Current and former residents of Pioneer Road and Reuben Boise Road are invited to meet and greet their neighbors during the 81st annual "Pioneer Loop" picnic on Thursday at Dallas City Park.
The potluck picnic will start at 6 p.m. at the Siebert/Fredrickson Shelter. Please bring a main dish and a side dish or dessert. For more information: Kris Golly at 503-623-8735 or Dennis Brown at 503-623-3923.
Central High Class
of 1952 will gather
Central High School's Class of 1952 will hold its 60th reunion Friday.
A prefunction get-together and tour of Central High School is scheduled that day at 2 p.m. A potluck follows from 4 to 9 p.m. at the Monmouth Senior Center, 180 S. Warren St. Cost is $5 per attendee.
The reunion committee is seeking help in locating classmates Donald Mitchell, Harry Deboling, Jim Dustin and Bill Satterfield.
For more information: Rita Lewis Mills, 503-656-8440; Barbara Buss McCullough, 503-831-3845.
Concrete leaf casting
workshop planned
Dancing Oaks Nursery southwest of Monmouth will be the site of a concrete leaf casting workshop Saturday from 10 a.m. to 12:30 p.m.
Participants will learn the techniques to create their own concrete garden sculptures from leaves. Cost is $35 and all materials are provided. Preregistration is required for the class at 17900 Priem Road; class size is limited.
For more information: 503-838-6058; www.dancingoaks.com; e-mail to dancingoaksnursery@gmail.com.
Clothing giveaway
scheduled Saturday
The Encourager Class at Salt Creek Baptist Church will be giving away clothing to those in need Saturday from 10 a.m. to 3 p.m.
The free distribution takes place at Dallas Alliance Church, 775 E. Ellendale Ave.
Clothing for infants, children, women and men will be available.
For more information: Judy, 503-623-8740; Gail, 503-623-2450.
Dallas Class of '67
schedules reunion
Dallas High School's Class of 1967 will hold its 45-year reunion Saturday at Premier RV Resorts in Salem.
A no-host social hour starts at 6 p.m., followed by a class photo at 6:45 p.m. and heavy hors d'oeuvres at 7 p.m.
Cost is $25 per person; photos are an additional $20.
For more information: Sally Kinion, 503-260-6238; Dave Mosher, 503-860-0639; or Ken Woods, 503-871-0056.
Dallas Alliance
hosts free concert
Community members are invited to a free "Concert in the Field" at Dallas Alliance Church, 775 E. Ellendale Ave., on Saturday.
The event starts at 6 p.m. and will feature a performance by Jericho Road, a Lincoln County-based gospel bluegrass band. They have recorded two CDs, "On the Road" and "Travelin' the Highway Home."
Bring a lawn chair or blanket. Free cobbler, pie and homemade ice cream will be served. Donations to the church are welcome.
For more information: 503-623-2265.
Free meditation
workshop Saturday
Learn the benefits of zen meditation at a free presentation and demonstration entitled "Why meditate?" on Saturday at Dallas Yoga Studio, 184 SE Oak Street.
The event, which will run from 11 a.m. to 12:20 p.m., will explain the practice of meditation taught in the zen tradition. Jill Bukkai Washburn, a Dallas resident and zen meditator for 25 years will lead the exercise. Bukkai is the guiding teacher for the Valley Zen Circle in Monmouth.
Wear comfortable clothes to the event. Cushions and chairs will be provided. Space is limited. Please register by calling 503-999-8016
PSWCD schedules
'A Taste of Polk'
Reservations are being accepted for Polk Soil and Water Conservation District's 2012 Annual Meeting, "A Taste of Polk County."
The dinner and meeting event is set for Aug. 23 from 5:30 to 8 p.m. at the Oregon 4-H Center, John Gray Hall, 5390 4-H Road NW, West Salem. It will include a dinner featuring items produced in Polk County, as well as live music and a silent auction.
Dinner is provided by PSWCD. Attendees are asked to bring a dessert to share. Donations are accepted.
RSVP by Monday is required. For more information or reservations: 503-623-9680; e-mail to debbie.miller@polkswcd.com.
Vendors needed for
'Harvest Festival
Vendors are being sought to participate in Rogue Farms Micro Hopyard's second annual Rogue Harvest Festival, scheduled Sept. 9 from 11 a.m. to 5 p.m.
According to farm spokeswoman Natascha Cronin, the harvest festival is a time for fun as the farm celebrates the hops and rye harvest and the upcoming pumpkin harvest.
The festival atmosphere is designed to have a farmers market feel to it. There is no cost to be a vendor.
For more information or a vendor application: ncronin@rogue.com.
Extension offering
canning classes
Polk County Extension is offering a series of food preservation classes this summer, the next of which is
Aug. 24.
The cost for each class is $10 per person. There is a maximum of 12 people per class.
The next class is "Quick Pickles" on Aug. 24: Prepare your own jar of quick pickles and learn about the key proportions of ingredients for a safe product. 6:30 to 8 p.m., Evangelical Bible Church, 1175 Howe St., Dallas.
Upcoming classes: "Preserving Tomatoes and Salsa" on Aug. 30 (only four slots remaining), "Canning in a Pressure Canner" Sept. 20 and "Fruit Pie Filling" on Sept. 21.
To register, contact the Extension office at 289 E Ellendale, Suite 301 in Dallas, 503-623-8395, or Debra Minar Driscoll at debra.driscoll@oregonstate.edu, 503-602-2651.
'Plein air' painting
class scheduled
Illahe Vineyards in Dallas, 3275 Ballard Road, will be hosting an "painting en plein air" event from 11 a.m. to 4 p.m. on Saturday.
The event is sponsored by Artists in Action and is part of the group's "Paint the Town" series, which allows artists of all skill levels to create art inspired by picturesque areas in the region. Locations are open to the public and visitors are encouraged to observe, learn, and interact with the artists while they work.
Artists who wish to participate may just show up on location with their medium of choice. A one-time artist fee of $20 covers all Paint the Town locations during the summer series. Completed artwork will be included in the final juried exhibit at the Elsinore Framing and Fine Art Gallery in October.
For more information: Phil Krug at: aia@artistsinaction.org.
Neighborhood block
party slated Sunday
Dallas First Christian Church, 1079 Jefferson St., is hosting a Neighborhood/Community Block Party Sunday from 3 to 7 p.m. The event will feature a bounce house, dunk tank, candy walk, and bingo with school supplies for prizes.
Cotton candy and hot dogs will be available. All events are free and everyone is welcome.
For more information: Marsha Heeter 503-623-2569.