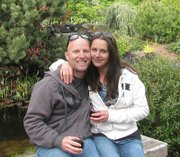 Box-Anderson
Jennifer Box of Dallas and Craig Anderson of Dallas are planning an August 2013 wedding.
The bride-to-be is the daughter of Jim and Leslie Box of Dallas. Her fiance is the son of Richard and Gayle Anderson of San Ramon, Calif.
Jennifer, a 1995 graduate of Dallas High School, received her associate degrees in hospitality systems management and travel and tourism management in 2008 from Chemeketa Community College in Salem. She works as a self-employed adult caregiver in Dallas.
Craig, a 1987 graduate of Central High School in Independence, is employed as an information technology systems administrator for Mentor Graphics in Wilsonville.
The wedding is set for Aug. 10, 2013, at Poolenalena Beach in Maui, Hawaii.