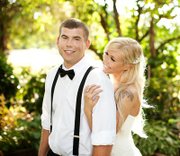 Stringer-Bartruff
Sara Stringer of Dallas and Zack Bartruff of Dallas were married July 29 at Victorian Acres in Oregon City.
The Rev. James Stringer officiated the ceremony.
The bride is the daughter of Robert Stringer of Salem and Joyce Stringer of Albany. Her fiance is the son of Steve and Michele Bartruff of Dallas.
Matron of honor was Amber McMullin. Bridesmaid was Elyse Johansen.
Best man was Justin Shorter. Groomsmen were Alec Meaut, Chris Bartruff and Mark Bartruff.
Sara is a 2004 graduate of Dallas High School. She is owner of and cake decorator at Country Cake Shop in Salem.
Zack is a 2005 graduate of Dallas High School and a 2010 graduate of the Oregon Police Academy in Salem. He works in construction for the Oregon Department of Transportation in Brooks.
The newlyweds honeymooned in Oahu, Hawaii. They make their home in Dallas.