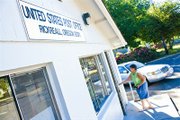 POLK COUNTY -- The United States Postal Service (USPS) has proposed plans reducing hours at the Rickreall and Falls City post offices.
The proposal would reduce daily retail counter hours at both locations from eight to four.
There are 124 post offices in Oregon, mostly rural, that are being considered for reduced business hours as USPS searches for ways to drastically cut costs.
"There are 13,000 post offices around the country that will be looked at," said Peter Hass, a USPS spokesman in Portland. "I'm not sure how long that process will take. We will be notifying the community when it begins."
Hass said the offices proposed for reduced hours were chosen based on a combination of foot traffic, mail volume and revenue.
Oregon resident and former mail carrier Jamie Partridge has scheduled a meeting in Rickreall Wednesday.
The meeting is designed to help local people in both communities organize against the proposal.
Partridge, the self-proclaimed "Postal Road Warrior," has been traveling the state holding similar rallies. Partridge has joined Postal Workers United in opposing the USPS proposal.
"I'm passionate about saving the postal service," Partridge said. "The Postmaster General (Patrick Donahoe) is driving the postal service into a death spiral with these cuts."
Rickreall resident David Booth has been helping organize Wednesday's gathering and encouraging people to attend.
"I look for things I can have strong support for and, doggone it, the post office is one of them," said Booth, adding he's seen overwhelming support for keeping it open full hours.
Falls City resident Karin Watkin, a freque
Photo by Pete Strong
Bob Countryman of Falls City picks up his mail Monday at the Falls City post office, one of two in Polk County that may soon face a reduction in service hours.
ges to mail Friday afternoon. A reduction in hours could be inconvenient for some residents, she said.
"It all depends on if you work," she said. "I'm a stay-at-home mom. I can come in at anytime of day I need to."
Earl Jelden, who stopped by the Falls City post office to pick up his mail Friday, said the move may force him to do business in Dallas more often than he would like.
"The bad part about Dallas is that you have to stand in line," Jelden said, adding it seems a waste of resources to reduce hours after recent improvements were made to the post office. "If the government wants to save money, they could do it in a lot better ways."
Partridge and Booth see something else to fear: That reduced hours may lead to complete closure.
"It just feels like a way to pressure people into being OK with more closures," Booth said.
Hass said there are no plans to close post offices. He said this proposal replaces another that would have closed thousands of post offices nationwide. He said an overwhelming negative response to that plan forced the USPS to reconsider.
"Last year, we looked at closing and consolidating about 3,700 locations," Hass said. "This proposal is in response to customers asking that we maintain a presence in their communities. The next step is to maintain those offices, but at reduced hours."
Hass said the USPS is forced to make cuts because in the last five years mail volume has declined 25 percent.
The USPS announced earlier this month that in the previous quarter it lost $5.2 billion. In addition to revenue losses, the USPS is under the unusual obligation to prepay for retiree health insurance - a requirement it is unable to fulfill.
"We recently did not make our last payment," Hass said. "We didn't have the funds. We have already gave notice that we will not be able to make the September payment. We are the only agency that is required to make that kind of a payment."
The agency receives no tax money to maintain service, so the loss in revenue made cuts necessary.
Hass said the public will have a say in whether local post offices will see reduced hours. A survey will be available and a public meeting will be held in each community.
Partridge said his meeting will help inform people of how to get involved.
"Our position is that the postal service should be improved and expanded and not shrunk," he said. "The post office can adapt to the digital age. It certainly adapted to the telegraph and the telephone. It can adapt to the Internet."
Learn More
* Jamie Partridge will hold a meeting Wednesday (Aug. 29) to help organize citizens wishing to keep post office hours intact in Falls City and Rickreall. The meeting will be held at 7 p.m. at the Rickreall Grange, 280 Main St. (Highway 99W).