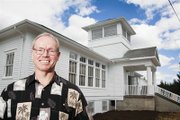 PEDEE -- In January 2009, Luckiamute Valley Charter School's Pedee campus was busy unexpectedly closing up shop.
A sudden decline in enrollment after winter break forced the school to send students attending Pedee -- there were only 15 remaining in the fifth through eighth grades -- to LVCS's Bridgeport campus.
This summer, the opposite is happening.
School employees and maintenance workers have been busy cleaning, painting and repairing the old school building, getting it ready to welcome seventh- and eighth-grade classes back to the campus.
Photo by Pete Strong
Melissa Glazner and Steve Diehl will teach eighth and seventh grades, respectively, in Pedee.
"I've been working out here all summer," said Steve Diehl, who, in addition to spending a summer prepping the old school house, will be its seventh-grade teacher. "We painted everything."
Diehl and eighth-grade teacher Melissa Glazner, along with several other employees, were only too happy to help reopen the school.
Since having to close the Pedee school, Luckiamute Valley's enrollment has surged, leaving the Bridgeport campus bursting at the seams. Enrollment grew from a total of 82 students in January 2009 to more than 200 -- a record amount -- anticipated to begin classes this fall. Only a small sixth-grade class last year prevented Luckiamute from reopening the Pedee school sooner.
"We have more than 200 students enrolled and will have all stand-alone (single-grade) classes for the first time this year," said LVCS Director Dan Austin. "We no longer have room at Bridgeport. We are expanding and will have a middle school now."
Between the seventh and eighth grades, more than 40 students will start classes in Pedee on Sept. 5, the first day of classes for the school.
Glazner and Diehl couldn't be more excited about creating a middle school atmosphere for students on their very own campus.
"I taught seventh- and eighth-grades blended together in the last remaining room at the other campus last year," Glazner said. "We built a computer lab in the hallway and squeezed through the year."
Recovering so quickly from the dramatic dip in enrollment was an unexpected surprise for Austin.
Photo by Pete Strong
Steve Diehl paints the front door of the Pedee campus a new bright red Friday.
He said the school had no choice but to move students to the Bridgeport campus in 2009 because the school lost 20 students between the first day of school in the fall and the end of winter break. He said a poor economy had many families looking for work. Many had to move. With only 15 students remaining at the school, it didn't make sense to operate two campuses.
In recent years, however, the school's situation has reversed, with many grade levels having waiting lists except grade six through eight, which have a limited number of openings available for the 2012-13 school year.
Dwindling classroom space at Bridgeport led to talk of reopening Pedee to accommodate a growing number of students.
Photo by Pete Strong
LVCS has seen a continual upswing in enrollment since the 2008-09 school year.
Diehl and Glazner said the move provides more than extra elbow room.
"We are excited about building the program from the ground up," Glazner said. "We are trying to decide what each space is going to be used for and how we can best accommodate everything."
The school has two classrooms, one for each grade, and two open rooms that will become small-group meeting space and a library. In the basement will be the cafeteria and an art and science room.
Outside, there's plenty of open space, which will be used for play and learning. Austin said the school plans to plant a garden for students to care for, perhaps as part of an agricultural business program Diehl and Glazner are developing.
Austin said the middle school grades will place an emphasis on using the skills learned in elementary grades, a concept which will be much easier to develop on a separate campus.
Students will have home classrooms, but will change rooms for certain subjects -- such as social studies, art and science -- giving them an idea of what high school will be like.
"They are going to love it," Glazner said. "I think they will be able to develop an identity for themselves out here. I think being up here as an older group, it will facilitate that piece really well."
Austin said the reopening of the school has been a long and arduous task this summer, but also a welcome necessity.
"It's nice to be coming back after having to make that tough decision to move in 2009," Austin said. "We are pretty excited and very optimistic."
Luckiamute Valley Charter Schools
* Bridgeport Campus
: 17475 Bridgeport Road, Dallas. Grades K-6. The first day of school at Bridgeport is Sept. 4.
* Pedee Campus
: 12975 Kings Valley Highway, Pedee (Monmouth). Grades 7-8. The first day of school at Pedee is Sept. 5.
Of note:
There are still slots available in kindergarten and sixth, seventh, and eighth grades; for updated school bus information, visit www.dallas.k12.or.us/.
For more information:
503-623-4837.