Wednesday, August 29, 2012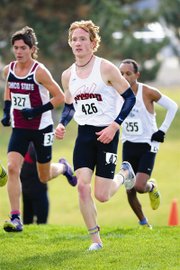 PIER PARK INVITATIONAL
When:
Saturday, 10:30 a.m.
Where:
Portland.
WOU home meets:
Ash Creek Open, Oct. 6; GNAC Championships, Oct. 20.
MONMOUTH -- Do a Google search of Western Oregon University cross-country runner Connor Kasler, and you'll find out a couple interesting facts.
One, the senior is an Oregon high school state champion -- he led Hidden Valley to a Class 4A state cross-country team title in 2008.
The second is a bit more surprising: Kasler was quite the basketball player growing up in the tiny borough of Skagway, Alaska -- making the all-tournament team in the Boyd Worley Junior High Round-Robin basketball tournament.
"I was a rather decent basketball player when I lived in Alaska and until my later years of high school, but I felt my calling was cross-country and track," Kasler said of a black-and-white photo of himself in the sixth grade, captioned "Connor Kasler flies by a DZ opponent en route to a 17-point performance."
So far, it appears that Kasler has picked the right sport.
As a junior, he led the WOU men's squad to the NCAA Division II National Championships, where the Wolves placed 14th (Kasler finished 49th individually).
But Kasler, who placed 11th at the Great Northwest Athletic Conference Championships, found his stride at the 2011 NCAA West Regional with a stunning fifth-place finish -- the best regional finish by a WOU runner in program history.
Ninth-year WOU coach Mike Johnson said Kasler's major jump from the GNACs to the NCAA Regional came down to experience.
"He learned how to run the right race and enjoy himself," Johnson said. "He just put that into perspective and he just does a great job."
Kasler said that with that enjoyment came confidence.
"Going into (regionals), I was the most confident that I've ever been in my many years of competitive racing," Kasler said. "For some reason, at GNACs, I lacked that confidence that I had when I toed the line at regionals -- when you believe in yourself and know that your coaches have you in the best possible shape, you enjoy every second of that race, as you pass your competitors along the way."
Kasler and his family moved from Skagway in 2003 -- on Kasler's 12th birthday -- to Grants Pass, for better schooling and to be closer to the rest of their family in the lower 48 states.
As tough as that move was on the entire family -- "... living in Skagway as a child was and always will be one of the best, most cherishable moments of my life," Kasler said -- it worked out his senior year at Hidden Valley to the tune of a much-coveted state title.
Kasler said he sees some of the same similarities in that Hidden Valley team in the current WOU squad, which graduated top runners Dan Sprinkle, Kyle Larsen and Lukas Fenley last season, but returns veterans Ryan Chapman, Drew Larson and Brady Beagley.
"Everyone here is a family, not only teammates but coaches as well," Kasler said. "... Everyone does the same things that my team at Hidden Valley did to make sure we are in the most immaculate shape that we can possibly be in."
So, is a return trip to nationals in the cards?
Kasler & Co. certainly believe so -- as long as they continue to do the right things.
"We need to go into every day's practice and ask ourselves, `What can I do today to not only make myself better, but our team better as well?'" Kasler said.
"When I'm in a workout, I always repeat these two questions in my head: `What's the benefit of right now? What am I training for?'"
WESTERN OREGON CROSS-COUNTRY
Coach:
Mike Johnson (ninth season).
MEN
2011 finish:
Third place at Great Northwest Athletic Conference Championships; third at NCAA West Regionals, 14th at NCAA Division II National Championship.
Key returners:
Connor Kasler, sr. (Grants Pass); Ryan Chapman, sr. (Yakima, Wash.); Drew Larson, sr. (Lake Stevens, Wash.); Brady Beagley, jr. (Grants Pass).
Newcomers to watch:
Zach Holloway, fr. (Brownsville); Sam Naffziger, fr. (Bend).
Local tie:
Ryan Hansen, soph. (Dallas/Santiam Christian High School).
Outlook:
Despite the graduation of four key runners, including All-West Region performer Dan Sprinkle, the men appear to be poised to make another run at a national championship appearance -- as long as they stay healthy. Transfer David Smith, from Spokane Community College, should also play a role. "We just need to stay on task and injury free -- make our own good fortune," Johnson said.
WOMEN
2011 finish
: Seventh place at GNAC Championships; 14th at NCAA West Regionals.
Key returners:
Rachel Shelley, soph. (Portland); Nicole Anderson, soph. (Packwood, Wash.).
Newcomers to watch:
Holly Meler, jr. (Bend); Bailey Beeson, fr. (Soldotna, Alaska); Natalie Schafer, fr. (Riverside, Calif.); Stephanie Stuckey, fr. (Tacoma, Wash.); Rebecca Paradis, fr. (Gig Harbor, Wash.).
Outlook:
The women are young -- the squad lost its top four runners to graduation -- but Johnson said with the leadership of Shelley and Anderson, several talented freshmen and Meler, a transfer from Clark College (Wash.), they'll be competitive. Time will tell, however, who the top runners are. "I don't think we'll know that until October," Johnson said. "We could see three or four different No. 1s. ... This group seems cohesive -- I think it's a matter of getting people together at the right time."