Wednesday, August 29, 2012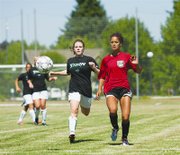 OIT at Western Oregon
When:
Friday, 4 p.m.
Where:
WOU Soccer Field.
Tickets:
$6 for adults; $4 for seniors/students; WOU students are free with valid ID.
MONMOUTH -- Following a year when the Western Oregon University women's soccer team won just three games all season, first-year head coach Steve Ancheta knew the task ahead of him would be daunting.
"You know, first year, I was definitely nervous walking into the (Great Northwest Athletic Conference) and walking into a whole new team," said the former Central Catholic High boys coach.
Nervousness aside, whatever Ancheta did, it worked: WOU finished the 2011 campaign with its best league record in 10 years.
"I think he brought a lot of passion and it just kind of transcended over to us," junior defender Becca Hoiland said of Ancheta, who led the Wolves to a 5-6-3 conference record and a fifth-place finish in the GNAC. "He really knew a lot about the game and knew a lot of technical things about the game that I think we were lacking and he was able to instill those in us, especially how to defend."
"You know the best offense is a good defense."
Ancheta also was able to use his connections with the FC Portland girls club soccer in Portland to land a late recruit in Lindsay Bauman, a junior transfer from Clackamas Community College.
That certainly paid off, too: Bauman was named the GNAC's Newcomer of the Year last season with four goals and three assists in 2011.
"I got lucky to get her, let's put it that way," Ancheta said of the first-team all-GNAC performer. "I was late coming here and taking the job, but I knew her coach and they said she was still open. I knew her a long time ago, back when she was playing club sports, so I knew she was a talent.
"She made some exciting opportunities in the GNAC her junior year and we know she's probably going to be marked up a little bit more as a senior."
Bauman joins seven other starters back from last year's team, including all-GNAC honorable mention performers Marina Austin (forward), Kymberly Witmer (forward) and JoEllen DeLeon (midfielder).
Combine that experience with a year of Ancheta's program in place, and the Wolves' expectations go even further than just competing.
They want to win. The main goal? Reaching the inaugural GNAC conference tournament, set to match up the top four teams after the end of regular-season league play.
"Already, I think we are (better)," Bauman said. "Even the intensity of the coaches has been up from last year, so it's been good. We're all really excited for the season to get started."
Added Hoiland: "We're just excited to keep getting better -- we're just hoping to have a really good season, better than last year. And it's no lie, we want to make the (GNAC tournament)."
WESTERN OREGON WOMEN'S SOCCER
Coach:
Steve Ancheta (second season).
2011 record:
6-8-4 overall; 5-6-3 Great Northwest Athletic Conference, fifth place.
Returning starters:
Eight.
Key returners:
Lindsay Bauman*, sr., midfielder (Portland); Kymberly Witmer*, sr., midfielder (Newberg); Marina Austin, sr., forward (Olympia, Wash.); Taylor Thompson, sr., midfielder (Clackamas); Macy Bothman, sr., defender (Eugene); Becca Hoiland, jr., defender (West Linn); Danielle Hayward, sr., defender (Salem); JoEllen DeLeon*, soph., midfielder (Gresham).
Newcomers to watch:
Nikki Caudill, jr., midfielder (transfer from Spokane Community College; Kelsey Lindsey, soph., goalkeeper (Kula, Hawaii); Hillary Lutz, soph., goalkeeper (Olympia, Wash.).
Local tie:
Erika Oliva, soph., defender (West Salem).
(*2011 all-GNAC performer)
Outlook:
The Wolves, picked to finish fifth in the GNAC coaches' preseason poll, hope to build off a 2011 season that saw WOU's best conference record in a decade. Back is last season's GNAC Newcomer of the Year in Bauman, along with 11 returning letterwinners that have a year of experience in Ancheta's system. The biggest hole to fill will be in goal, where Lindsay and Lutz are expected to compete for time. Like everyone else in the conference, the Wolves will be chasing Seattle Pacific, winners of eight GNAC titles and a school which received all eight first-place preseason poll votes.